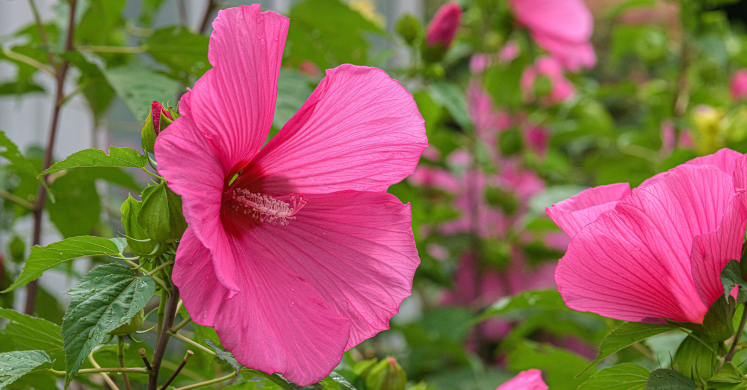 Let's Stay Connected: May 18 — 24
We at Phipps are always thinking of our members, visitors and friends, and during these uncertain times, we want to provide you with nature's beauty and inspiration, just like we would if you were with us in the glasshouse. Phipps will remain closed through the stay-at-home order, but in the meantime, we're sharing a virtual treasure trove of materials to help you engage with nature, re-experience the wonder of Phipps shows past, make your own gardening plans and more. We appreciate your support of Phipps and look forward to staying in contact in this way!
---
Virtual BioBlitz Family Fun Festival
On Sun., June 7, our fifth annual BioBlitz festival will be moving virtual! Though we may be online, the day will still bring together families, students, local scientists and naturalists, teachers and community leaders for a day of celebrating the wonders of the outdoors.
---
Virtual Field Trips
While Phipps is temporarily closed to the public, we're offering an exciting lineup of virtual field trips for school, homeschool, scout and other education groups. While meeting Pennsylvania. standards, these programs use botany and ecology to inspire learning.
---
Join Us for a Virtual Story Time Each Wednesday!
Story Time is going online! Join us each Wednesday at 10:30 a.m. or 1 p.m. for a 15-minute Story Time and receive a link to a fun activity that you can complete at home. Each week, we will share a new story and activity!
Wed., May 20 Schedule
Greeting and Welcome
Learning to Read Component: Practice reading from left to right
Reading of Strega Nona by Tomie de Paola
"Old MacDonald" sing-along
Goodbye song
Follow-up email with themed activity
---
Virtual Peek Behind the Petals
Join us from the comfort of your home on Thurs., June 11 at our virtual Peek Behind the Petals where Sustainable Landcare Program Coordinator Juliette Olshock will introduce you to the many sustainable gardening resources available from Phipps.
---
Purchase PetalVision Glass Jewelry to Help Support Phipps Conservatory
During the month of May, PetalVision Glass is donating 15% of all floral jewelry sales to Phipps Conservatory. Usually featured in The Shop at Phipps, PetalVision Glass transforms real flowers into jewelry you can wear and gift proudly.
---
Help us Reopen Our Doors at Our Bright, Beautiful Best
While Phipps is closed, we must care for our plants and facilities so that we can continue to be the source of beauty and enrichment we have been to Pittsburgh for over 125 years. If you're inspired, please show your support today!
Select Photos © Paul g. Wiegman