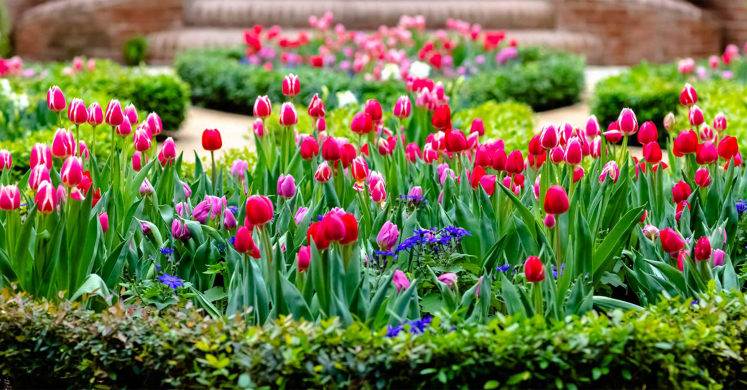 Let's Stay Connected: April 6 — 12
We at Phipps are always thinking of our members, visitors and friends, and during these uncertain times, we want to provide you with nature's beauty and inspiration, just like we would if you were with us in the glasshouse. Phipps will remain closed through at least Thurs., April 30, but in the meantime, we're sharing a virtual treasure trove of materials to help you engage with nature, re-experience the wonder of Phipps shows past, make your own gardening plans and more. We appreciate your support of Phipps and look forward to staying in contact in this way!
---
Share Your Fond Memories of Phipps
Since 1893, Phipps has been a destination for Pittsburghers to celebrate nature in the company of friends and family — and that means a lot of memories have been made in our gardens! To keep the Phipps community connected and growing, we invite you to share your memories of Phipps with us so we may display them for others to enjoy.
---
NEW! Online Classes Now Available
Whether you are a seasoned green thumb, aspiring floral designer or budding backyard vegetable gardener, we have a class for you — and now some of our most popular courses are available to attend from the comfort of your own home. Enrolled students will receive a link to a live Zoom webinar to virtually attend at the appointed time.
---
Hello from Horticulture: Phipps Staff Share Brilliant Spring Blooms
Though most Phipps staff are not currently on-site, we're still taking care of our plants, and we'll share photos of new blooms with you as they happen. Watch our Hello From Horticulture video below for a look at new blooms in our Orchid Room. Stay tuned for more updates!
Watch the Latest Video
---
Virtual Environmental Film Series Presents: Plastic Wars
Join us virtually on Fri., April 17 from 7 – 9 p.m. for a screening of Plastic Wars. With the plastic industry expanding like never before and the crisis of ocean pollution growing, FRONTLINE and NPR investigate the fight over the future of plastics in this awesome new documentary which is free to watch online.
---
Planning Your Vegetable Garden? Check Out Our New Resource Guide!
The spring season is upon us, and it's the perfect time to begin your vegetable garden! Phipps staff have compiled a list of resources below to help your garden grow so you can enjoy fresh, healthy food all summer long! View the guide for tips and tricks to get your garden started!
---
Show Your Support for Phipps – How You Can Help
If you would like to show your support for Phipps at this challenging time, here are a few ways you can help: become a Phipps member or renew your membership to help deliver vital funding at a time when it is needed most or consider making a contribution to keep us growing.
Select Photos © Paul g. Wiegman