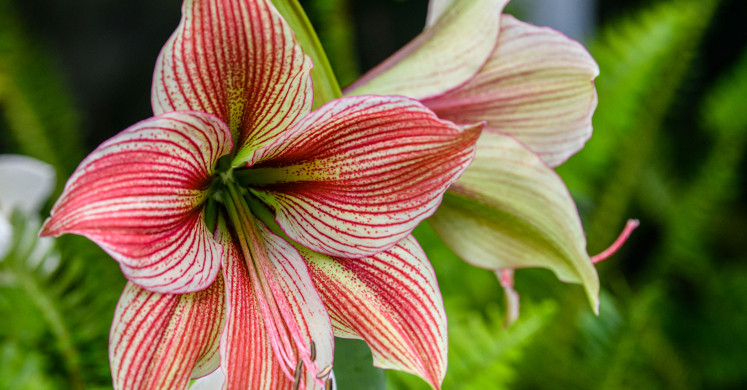 This Week at Phipps March 13 - 19
There's always something new to see and do at Phipps! This weekly blog post provides a run-down of the latest happenings so you can plan your visit. Events listed below require no advance registration unless noted otherwise.
Open Daily:
COMING SOON: Spring Flower Show: Five Senses of Splendor
Starting March 18 explore our Spring Flower Show: Five Senses of Splendor that promises even more vibrance than ever! With features including a giant perfume bottle, harmonious chime canopies, a cascading fountain and more all surrounded by blooms in a rainbow of shades, your senses are sure to be delighted!
COMING SOON: Ikebana International Exhibit
Starting March 17, the Welcome Center Gallery will be filled with the Ikebana displays providing insight to this Japanese art of floral arrangement. View these gorgeous floral displays for yourself, courtesy of the Ikebana International Pittsburgh Chapter!
Tropical Forest Hawai'i: Aloha 'Aina
Tropical Forest Hawai'i: Aloha 'Aina invites guests to take an exciting, immersive journey through the rich history, nature and culture of the Hawaiian archipelago.
Planets Earth Virtual Exhibit
A dynamic exhibit at the Center for Sustainable Landscapes (and now online) addresses the pressing environmental issues of our time and proposes a new way of thinking about how to solve them.
Tues., March 14:
Silverpoint I & II | 6 p.m. – 9 p.m.
Silverpoint is a beautiful drawing medium, used by many Renaissance Artist prior to the use of graphite. This course allows new students to be able to practice and complete a 6" square botanical drawing and for more experienced students to be able to complete a 12" square Natural History drawing.
Wed., March 15:
​In-Person Story Time | 10:30 a.m. and 1 p.m.
Kids will love visiting Phipps to listen to our storyteller weave tales about gardens, fruits, vegetables, animals and other fun topics. Attend weekly sessions with a special child in your life!
Botanical Drawing II | Volume, Texture and Details | 6 p.m. – 9 p.m
Continue to develop your observation and drawing skills to accurately render leaves, stems, roots and flowers in varying positions, capturing details and textures unique to the botanical subject.
Plant-Based Meal Prep: Sumptuous Seeds | 6 p.m. – 7:30 p.m
In this class, we embrace the "cook once, eat twice" philosophy that is meal prep. We will spend an hour and a half preparing breakfast, lunch, and dinner that can be stored and enjoyed for days. In this course learn how to make chia seed pudding, quinoa pulao and sunflower seed pesto pasta.
Herbal Dream Pillow | 6:30 p.m. – 8 p.m
Do you have trouble sleeping? Tossing and turning? Bothered by nightmares? Perhaps dream pillows are for you. Dream pillows are made from various herbs that are reputed to lull you to sleep and ensure pleasant dreams. This class will teach you about the benefits of these herbs, and each participant will take home their very own dream pillow.
Thurs., March 16:
History of Colonial American Garden | 7 p.m. – 9 p.m
Explore how these cultural styles were modified to fit the differences in the landscapes of North America by selecting different plants or blending elements to produce practical or pleasurable gardens.
Photo © Paul g. Wiegman