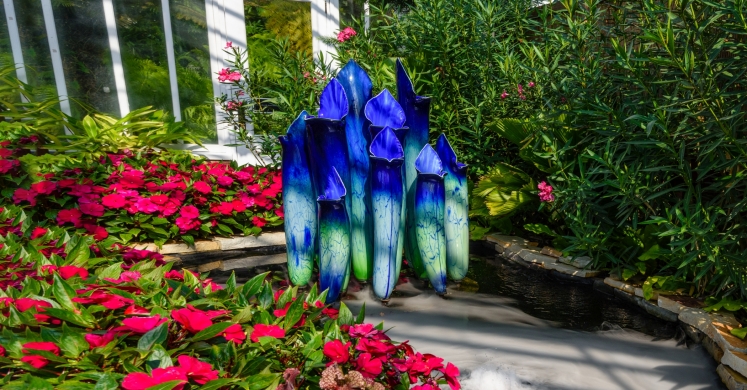 This Week at Phipps: Oct. 2 – 8
There's always something new to see and do at Phipps! This weekly blog post provides a run-down of the latest happenings so you can plan your visit. Events listed below require no advance registration unless noted otherwise.
Open Daily (Extended Hours 9:30 a.m. – 11 p.m. Except Sat., Oct. 7):
Mon., Oct. 2:
Make-a-Craft Mondays | 10:30 a.m. – noon
Create your very own Phipps masterpiece! Every Monday, children are invited to engage in nature-inspired arts-and-crafts projects using recyclable materials.
Wed., Oct. 4:
Story Time Wednesdays | 10:30 a.m. and 1 p.m.
Kids will love listening to our storytellers weave tales about gardens, fruits, vegetables, animals and other fun topics.
Green Market at Phipps | 2:30 – 6:30 p.m.
Refresh your lifestyle! Visit our front lawn to browse a colorful cornucopia of organic and sustainable goods from local vendors.
Thurs., Oct. 5:
Biophilia: Pittsburgh | 5:30 p.m. | R.S.V.P. required
This month's meeting will feature Dr. John Stolz, professor of microbiology and director of the Center for Environmental Research and Education program at Duquesne University, who will lead the discussion, "Gaia — Reflections on Turning 50."
Fri., Oct. 6:
Pot-a-Plant Fridays | 10:30 a.m. – noon


Every Friday, children are introduced to the important connections between people, plants and the planet by potting their own fun plants to take home.

Party in the Tropics: '90s Night | 7 – 11 p.m. | Ages 21+ only
Head to Phipps for a healthy dose of neon-colored nostalgia as you indulge in unique '90s-themed cocktails, dance to the decade's hits, munch on light party snacks and unwind amid the lush greenery and rushing waterfalls. It'll be all that and a bag of chips!
Sat., Oct. 7:
Sun., Oct. 8:
Botanical Soaps | 1:30 p.m.
Delve into the history of botanical soaps and learn how they are made.
Photos © Paul g. Wiegman