Thurs., July 13; 5:30 – 7:30 p.m.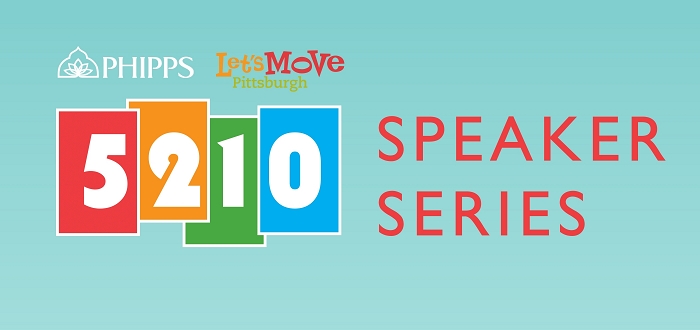 Join our bimonthly discussion of new ways to build healthy environments for children.
In honor of its five year anniversary, Let's Move Pittsburgh is hosting a 5-2-1-0 Speaker Series to celebrate the efforts of local organizations who are making a difference in children's health through the 5-2-1-0 program. These bimonthly events provide a free service to educators, healthcare professionals, parents and caregivers and anyone who has a passion for the wellbeing of our children. Guest speakers will present on their work and share the latest recommendations for how to build healthy environments for children. Each session will be accompanied by a Champion Schools poster session and interactive lessons. This series of events will generate new partnerships, collective action and continued efforts for another five years of work to make Allegheny County the healthiest place for children to live, learn and grow with 5-2-1-0!
July | Make Playtime Count
Thurs., July 13 | 5:30 – 7:30 p.m.
Center for Sustainable Landscapes Classroom
For our July installment, we will speak with Dr. Roberta Schomberg of Carlow University to learn about the importance of play as a fundamental part of children's learning and discover strategies for adding healthy activities into playtime. Before and after the presentations, participants will also have the chance to speak with Let's Move Pittsburgh Champion Schools which have been awarded grants for implementing healthy school programs, talk to UPMC Health Coaches, meet representatives from the Pittsburgh Playful Collaborative and browse helpful resources from community partners. This event is free to attend; however, advance R.S.V.P. is required.
About the Speaker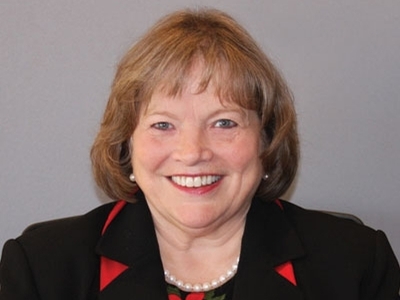 Dr. Roberta Schomburg is a professor emerita at Carlow University, where she taught for 25 years and was associate dean and director of the School of Education for 10 years. During that time, she taught early childhood graduate courses, including a course on understanding children's play. Roberta is a senior fellow at the Fred Rogers Center for Early Learning and Children's Media and a consultant for the Fred Rogers Company, where she is an advisor for the PBS award-winning television program Daniel Tiger's Neighborhood. She is past vice-president of the governing board for the National Association for the Education of Young Children (NAEYC) and a board member of the Children's Museum of Pittsburgh. She has presented nationally on the topic of children's play and has published several articles on the value of play in early childhood and beyond.
Meeting Schedule
5:30 – 6 p.m. Networking, Champion Schools poster session and refreshments
6 – 7 p.m. Presentations and Q&A
7 – 7:30 p.m. Networking, Champion Schools poster session and refreshments
Kids' Session: P Is for Play
While you learn, your children can too! Register young explorers ages 2 – 8 to attend a free health education session while you attend our 5-2-1-0 Speakers Series. At this month's session, children will be encouraged to explore the realm of play through various activities and up-cycled games that you can make at home.
The series is free to attend; however, advance registration is required and space for our kids' session is limited. To R.S.V.P., complete our online form or sign up on our Meetup page.
Act 48 credits will be available for this program.

Upcoming Talks
Save the date for these upcoming installments of the Speaker Series, and stay tuned for more details:
Thurs., Sept. 14 | Decoding Online Resources
Learn from experts how to find valid information and reliable sources for children's health tips online.

Directions and Parking
The Speaker Series takes place in the Center for Sustainable Landscapes (CSL) Classroom which is located on the facility's first floor. The main Conservatory entrance will be closed, as these meetings take place after normal business hours; to access the CSL, follow Frew Street (located between the Oakland/Schenley Park bridge and the Christopher Columbus statue), which will take you around the Conservatory to the lower campus. Guest parking spaces are available on your left as you approach the CSL.

Our Goals
To provide impactful networking opportunities for youth-serving providers and caregivers
To promote the 5-2-1-0 message and encourage others to adopt it as a formula for healthy living
To celebrate the success of local initiatives including Let's Move Pittsburgh's Champion Schools
To equip participants with an awareness of resources that can be used to build healthy environments
To inspire youth-serving providers and caregivers to help children in our region lead healthy lives

What Is 5-2-1-0?
5-2-1-0 is a movement to reinforce healthy lifestyle choices that benefit local kids and their families. The 5-2-1-0 movement promotes four key messages about healthy eating and physical activity. These are: 5 or more servings of fruits and vegetables every day, 2 hours or less of recreational screen time every day, 1 hour or more of physical activity every day, and 0 sugary drinks and more water every day. To learn more, visit our 5-2-1-0 website.
Let's Move Pittsburgh is made possible with support from UPMC Health Plan, Hillman Foundation and The Heinz Endowments.
The 5-2-1-0 program is adapted from Let's Go! www.letsgo.org.
Select photos © Brian Cohen
More Events You'll Enjoy
Saturdays and Sundays; 1:30 p.m.

Grow your garden know-how by attending a free-with-admission class. From African foods to back to school arrangements and much more, local experts bring it all to you surrounded by the beauty of our gardens.

Open Now

Ten years after Chihuly at Phipps, master glass artist Jason Gamrath brings a new twist to the art form, creating remarkably accurate botanical pieces on a massive scale, standing from six to 14 feet tall.

Thurs., July 20; 8 a.m. – 3:30 p.m.

Join Phipps and Penn State Extension for a full day of exploring landscape design and creativity with garden writer Tovah Martin