Natives for Your Yard: A Botanical Art Exhibit
Now Open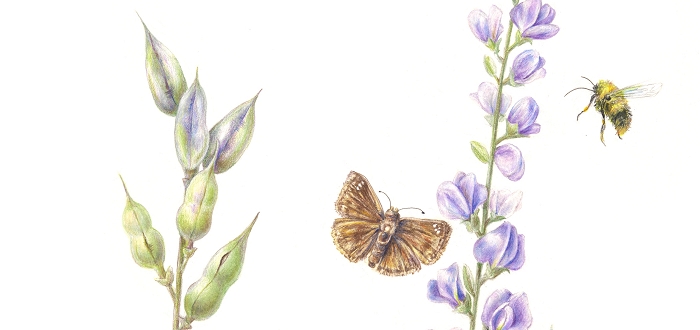 Stop by the Phipps Garden Center in Mellon Park to see our latest botanical art exhibit, "Natives for Your Yard", featuring plants native to southwestern Pennsylvania that you may recognize from your own backyard! This exhibit is a collaboration between Phipps' Botanical Art and Illustration program and the Allegheny Highland Botanical Art Society, and features the work of Phipps students. "Natives for your Yard" will be at the Phipps Garden Center until May 18.
In the Phipps Flora Project program, students learn how to research and produce a beautiful and accurate botanical painting from start to finish. Unlike most programs, the Phipps Flora Project is a long-term course with guided open studios so that the students can master their work. For more information about Phipps' Art and Illustration program and other adult education offerings, please visit the Classes and Programs page or call 412/441-4442, ext. 3925.

Featured drawings © Robin Menard, Marguerite D. Matz
More Events You'll Enjoy
Sat., May 26; 11 a.m. – 4 p.m.

Bring the whole family to our Children's Discovery Garden for hands-on, sensory fun. Together, you'll learn about plants and their pollinators through games, a potting station, crafts and more — all free with Conservatory admission.

Thurs., June 7; 6 p.m.

Biophilia: Pittsburgh meets monthly to discuss how citizens can strengthen the bond between people and nature through education and action. Registration is required but events are free to attend. Join the conversation!

Sun., June 10; 8:30 a.m. – 4:30 p.m.

Bring the whole family to Phipps for a free, fun festival celebrating science, art and nature! You'll explore the amazing biodiversity right here in our region, participate in real-time science, create unique art and much more.