Fri., April 14; 6:30 p.m.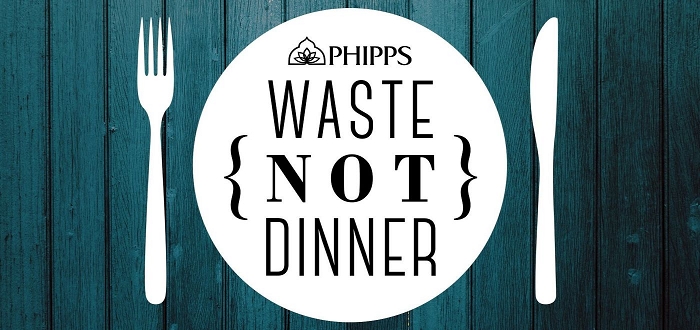 Enjoy a delightful gourmet meal that takes a fresh look at foods too good to waste.
Phipps proudly brings the fun, creative waste-not-style dinner back to Pittsburgh! Each plate of this abundant four-course meal takes leftovers that are often overlooked or discarded and transforms them into an innovative, flavorful dish that will excite your taste buds.
Between each plate, the expert chefs from our 3-star Green Restaurant Certified® Café Phipps will hold live cooking demonstrations, providing a memorable dining experience as they share creative tricks and techniques on delicious, creative food transformations and sustainable practices in the kitchen. It's a hip and healthy evening that proves fine dining can be good for you and good for the planet.
Doors open at 6 p.m. Dinner will be held Fri., April 14 at 6:30 p.m. in Phipps' Special Events Hall against the backdrop of the Tropical Forest Hawai'i exhibit. After dinner, the Conservatory is yours to explore until 10 p.m.! R.S.V.P. by calling 412-651-5281.
Menu
VG Vegetarian V Vegan DF Dairy-Free
Salad
Panzanella V DF
Tuscan chopped salad of rustic bread, red onions, tomatoes, fresh basil and a balsamic vinaigrette
Appetizer
Herb Roasted Mushroom Stems and Frascatelli VG DF
Herb roasted portabella mushroom stems with a silky roasted garlic, shallot, extra virgin olive oil served with beet greens over a bed of house made frascatelli pasta
Choice of Entrée
Artic Char
Pan seared artic char over red pepper polenta, sauteed broccolini with gremolata, and topped with a herbed chimichurri.
(Seared bone-in chicken breast is available instead of cod)
— or —
Eggplant Rollatini V
Roasted herbed eggplant, house made herbed farmers cheese, gremolata, and garlic and herb tomato sauce
Dessert
Panna Cotta
Vanilla bean panna cotta with mixed berry compote
Select wines are available for an additional fee.
Reservations are required for the Waste Not Dinner, and space is extremely limited. Reservations are $75 per person and include the four-course meal and admission to Phipps. Payment information must be given at the time of registration; R.S.V.P. by calling 412-651-5281.
Meet the Chefs
Chef Amy Reed started cooking professionally at age 17 and held her first executive chef position at 22. She has medaled in culinary competitions, served on culinary advisory boards for Hocking College and The Pittsburgh Culinary Institute, and held a seat on the board of the American Culinary Federation Columbus Chapter. Despite cooking for top ranked hotels and restaurants, high profile clients, and celebrities during her career, Amy still sees her 15-year-old daughter, Sydney, as her toughest critic. As general manager of Café Phipps, she applies her experience to finding creative ways to make delicious and healthy food.
Chef Shawn Stockdill is a passionate and innovative chef with over 15 years of experience in the culinary industry. Shawn developed a love for cooking at a young age and honed his skills working in local family pizza shops. While cooking for Boy Scout Summer camps for 3 summers, he finally decided to dedicate his life to the Culinary Arts and Attend the Culinary Institute of America to follow his dreams. Shawn is a firm believer in using fresh, seasonal, and locally sourced ingredients to create dishes that are not only delicious, but also sustainable, healthy, and ethical. When he is not in the kitchen, Shawn enjoys building Legos, gardening, camping, and just a general love for the outdoors. He also volunteers for 412 Food Rescue Kitchen and The Pittsburgh Association for the Deaf. With his passion for food, creativity, and dedication to sustainability, Shawn is a force to be reckoned with in the culinary world and is sure to leave a lasting impression on anyone who tastes his dishes.
According to the Food and Agriculture Organization of the United Nations, approximately one third of the food produced in the world is wasted annually. This results in the squandering of precious resources including water and land, as well as unnecessary greenhouse gas emissions, contributing to climate change.
Join Phipps in raising awareness by attending Pittsburgh's signature Waste Not Dinner, joining together to help the planet. Proceeds support Phipps' environmental sustainability programs.
More Events You'll Enjoy
May 12 – 13; Friday, 9 a.m. – 7 p.m.; Saturday, 9 a.m. – 5 p.m.

Phipps' celebrated open-air market returns! Stock up on unique plants, landscaping materials to botanical art, natural body care products and more.

See description for dates and times

Peruse our offerings for an exciting variety of fun and enriching programs on gardening, culinary arts and more to let your inspiration grow this season.

Now Open

A dynamic exhibit at the Center for Sustainable Landscapes addresses the pressing environmental issues of our time and proposes a new way of thinking about how to solve them.