Fri., March 23; 7 p.m. REGISTRATION CLOSED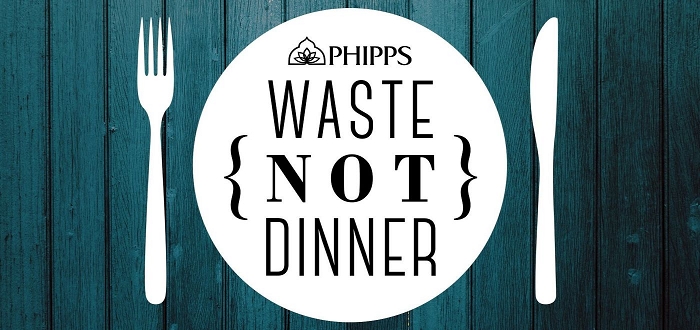 Enjoy a delightful gourmet meal that takes a fresh look at foods too good to waste.
NOTE: Registration for this event is now CLOSED.
Inspired by popular waste-not-style dinner events held in New York and San Francisco — and seen on Food Network — Phipps proudly brings an up-and-coming movement in creative cuisine to Pittsburgh! Each plate of this abundant four-course meal takes an ingredient that is often overlooked or discarded — from beet tops and potato skins to olive jar juice and more — and transforms it into an innovative, flavorful dish that will excite your taste buds.
Between each plate, the expert chefs from our 3-star Green Restaurant Certified® Café Phipps will hold live cooking demonstrations, providing a memorable dining experience as they share creative tricks and techniques on delicious, creative food transformations and sustainable practices in the kitchen. It's a hip and healthy evening that proves fine dining can be good for you and good for the planet.
Dinner will be held Fri,, March 23 in Phipps' Special Events Hall against the backdrop of the new Tropical Forest Cuba exhibit. R.S.V.P. by calling 412/651-5281. Registration for this event is now closed.
Menu
Salad
Beet top salad
utilizing beet tops as greens, frilled zucchini and eggplant, grape tomatoes, cucumbers, red onions, mixed artisan greens and Kalamata olive jar juice vinaigrette
Appetizer
Carrot-fennel risotto
utilizing "Juicer carrot" pulp, fresh rainbow carrots, scrap-vegetable stock, chardonnay braised fennel fronds and bulbs
Choice of Entrée
Wild striped bass
Seared airline chicken
— or —
Black bean and quinoa cake (vegan option)
served with vegan pesto utilizing wilted arugula, mesquite sweet potato skins, chickpea and asparagus salad, parsley stem vinaigrette
Dessert
Bread pudding and orange aquafaba meringue
utilizing stale bread and garbanzo bean juice
Select wines are available for an additional fee.
Reservations are required for the Waste Not Dinner, and space is extremely limited. Reservations are $58 per person and include the four-course meal and admission to Phipps. Payment information must be given at the time of registration; R.S.V.P. by calling 412/651-5281.
Meet the Chefs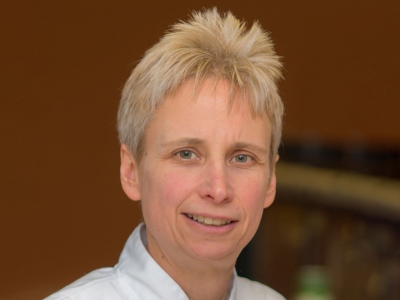 Chef Amy Reed started cooking professionally at age 17 and held her first executive chef position at 22. She has medaled in culinary competitions, served on culinary advisory boards for Hocking College and The Pittsburgh Culinary Institute, and held a seat on the board of the American Culinary Federation Columbus Chapter. Despite cooking for top ranked hotels and restaurants, high profile clients, and celebrities during her career, Amy still sees her 12-year-old daughter, Sydney, as her toughest critic. As general manager of Café Phipps, she applies her experience to finding creative ways to make delicious and healthy food.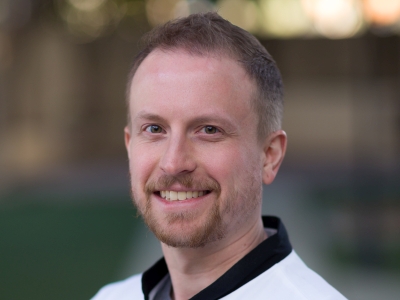 Chef Chris Cox began his culinary career at age 14 at home learning to make from-scratch Italian cuisine. He graduated with a degree in Le Cordon Bleu Culinary arts in Pittsburgh, PA and had his first Executive Chef role at age 23. Throughout his career, Chris has focused on locally sourced sustainable ingredients and inventive menus that showcased his passion for creative but approachable "real" food. He has worked as a personal chef and managed in fine dining restaurants, universities, local cafes, private clubs, and traveled to 10 countries to work with chefs to learn about local cuisines. Recently Chris was recognized as a guest speaker at a local vegan food festival where he performed cooking demos and taught classes on healthy cooking.
According to the Food and Agriculture Organization of the United Nations, approximately one third of the food produced in the world is wasted annually. This results in the squandering of precious resources including water and land, as well as unnecessary greenhouse gas emissions, contributing to climate change.
Join Phipps in raising awareness by attending Pittsburgh's signature Waste Not Dinner, joining together to help the planet. Proceeds support Phipps' environmental sustainability programs.
More Events You'll Enjoy
May 11 – 12; Friday, 9:30 a.m. – 7 p.m.; Saturday, 9:30 a.m. – 5 p.m.

A fun family outing held just before Mother's Day, our 82nd annual May Market features a wide selection of plants, gardening accessories, handmade goods and more.

Fridays April 13 and May 4; 7 – 11 p.m. (Ages 21+)

Make our paradise your own as you indulge in sweet and savory morsels, taste unique cocktails, and dance to the beats of a live DJ in our Tropical Forest Conservatory. Entry is free with Conservatory admission.

Opens Sat., April 7

On display at the Phipps Garden Center in Mellon Park, this collection of work from students of our Botanical Art and Illustration program highlights native plants of southwestern Pennsylvania that you may recognize from your own backyard.