Center for Sustainable Landscapes
One of the Greenest Buildings in the World
The Center for Sustainable Landscapes (CSL) at Phipps Conservatory and Botanical Gardens generates all of its own energy and treats all storm and sanitary water captured on-site. It is the first and only building to meet seven of the highest green certifications: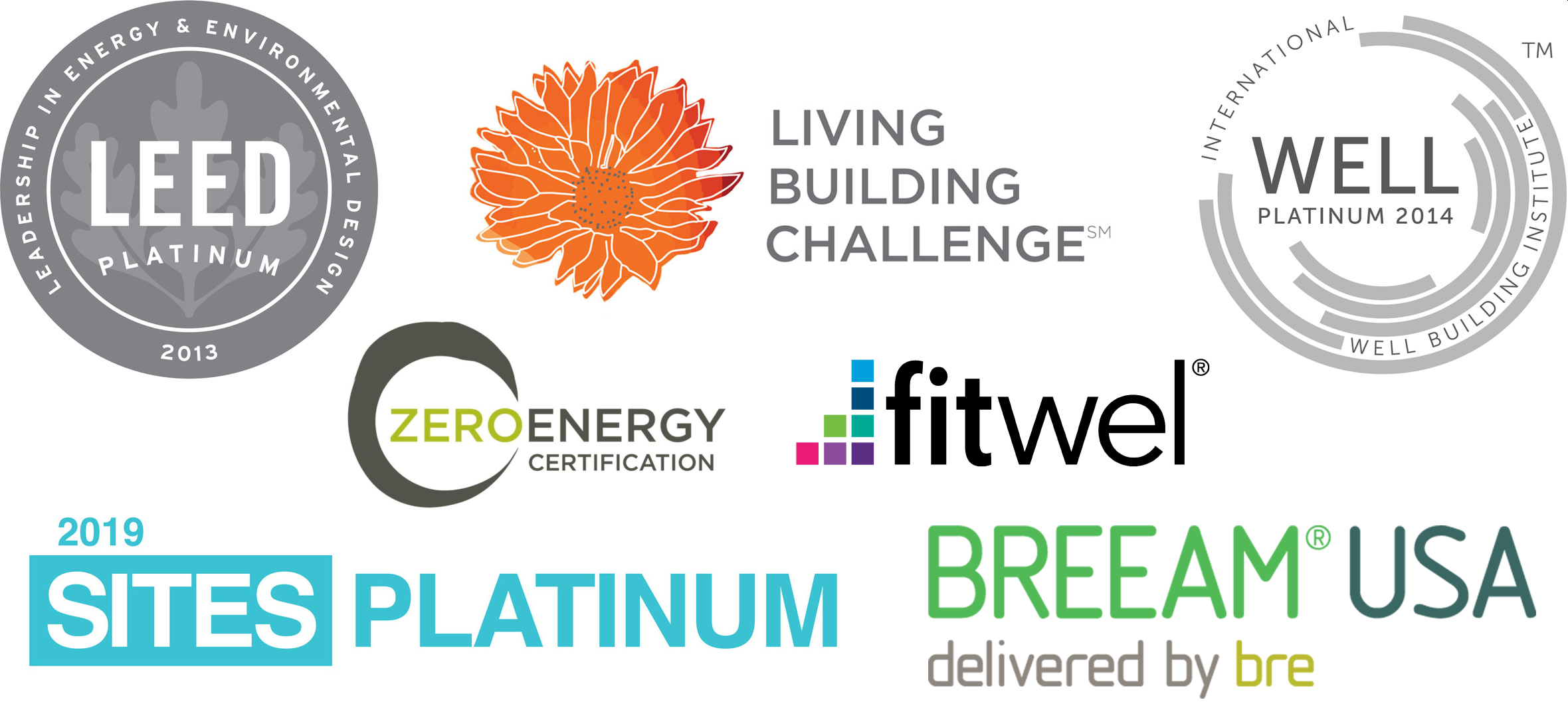 • Living Building Challenge, the world's most rigorous green building standard
• LEED® Platinum — tied for the highest points awarded under version 2.2
• First SITES™ Platinum project
• Zero Energy Certification
• First WELL Building Platinum project (pilot)
• First certified BREEAM Outstanding In-Use building in the United States
• Fitwel 3 Star rating

As Phipps' education, research and administration facility, the CSL is an integral part of the Phipps visitor experience as a "living museum," focusing attention on the important intersection between the built and natural environments, and demonstrating that human and environmental health are inextricably connected.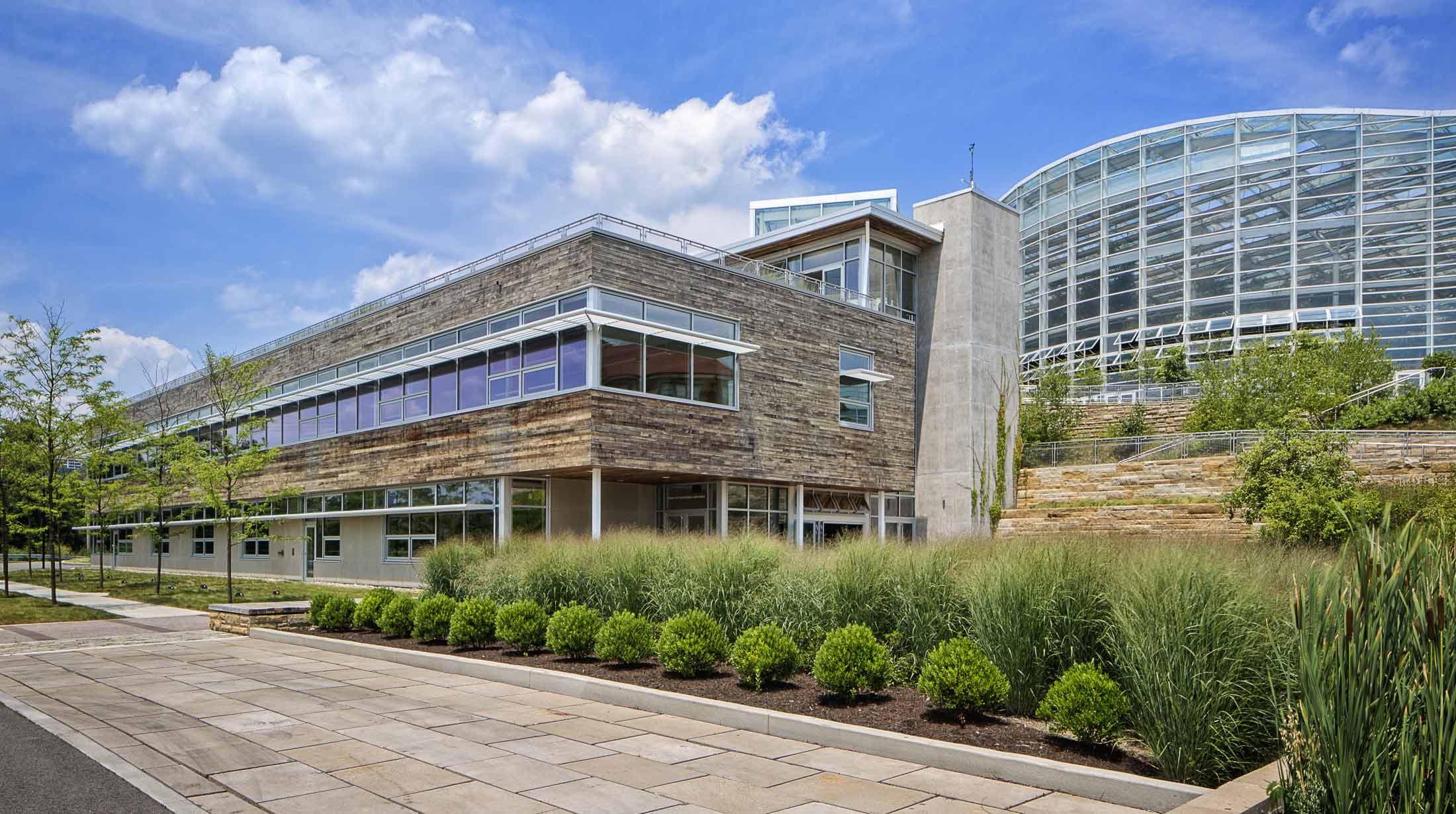 Take a Closer Look
Learn how the Center for Sustainable Landscapes connects people to nature in the short video below:
Take a short video tour of the CSL's native landscape, lagoon and atrium:
Case Studies
Numerous institutions have published case studies assessing the Center for Sustainable Landscapes and its design and performance features:
Step into the Future
Your visit to Phipps includes access to the Center for Sustainable Landscapes, allowing to explore one of Earth's greenest buildings for yourself. Docent-led tours and group options are also available.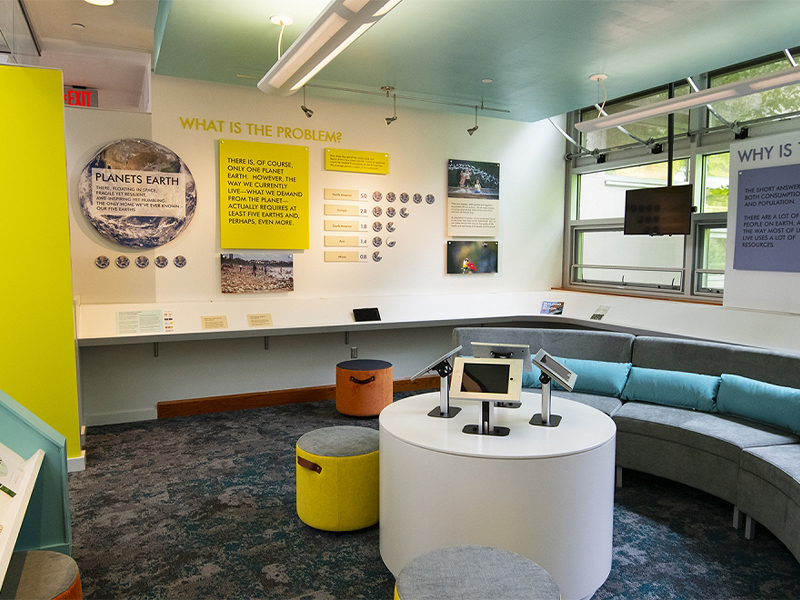 Planets Earth
A dynamic exhibit at the Center for Sustainable Landscapes addresses the pressing environmental issues of our time and proposes a new way of thinking about how to solve them.
More Details
Click the sections below for additional details on project features and more.
Pennsylvania's First Living Building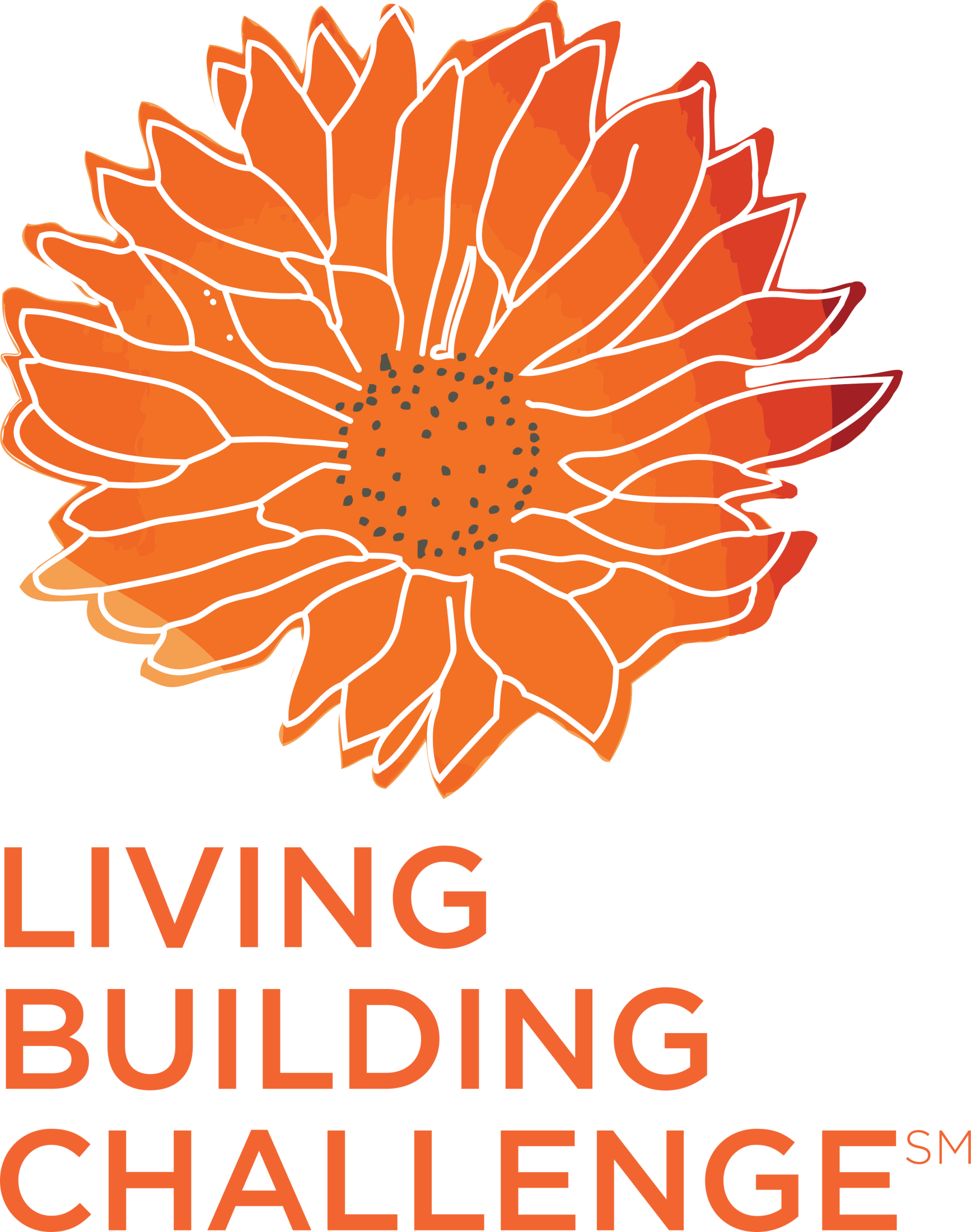 The Living Building Challenge calls for the creation of building projects that operate as cleanly, beautifully and efficiently as nature's architect. To be certified, they must meet performance requirements in six "petal" areas over 12 months.
Site Petal
Restoring a healthy coexistence with nature
Energy Petal
Relying only on current solar income
Materials Petal
Endorsing products and processes that are safe for all species through time
Water Petal
Creating water-independent sites, buildings and communities
Indoor Air Quality Petal
Maximizing physical and psychological health and well-being
Beauty and Inspiration Petal
Celebrating design that creates transformative change
In 2015, the Center for Sustainable Landscapes became the first building in Pennsylvania to achieve the Living Building Challenge.
Project Summary
Energy: The Power of Innovation 
The CSL was designed to achieve net-zero energy status on an annual basis, meaning that, over the course of a year, it is expected to produce more energy than it consumes. In addition to generating power with a vertical axis wind turbine and photovoltaic solar panels, the CSL also takes advantage of geothermal wells, and passive cooling, heating and lighting methods, to operate more efficiently. 
Strategic window placement, light shelves that direct the sun's rays and reflective ceiling material all allow for daylight to naturally illuminate the interior 80 percent of the time, reducing the need for energy-intensive artificial lighting. 
High performance insulation and low-e windows help keep heat inside during the winter and outside during the summer. 
Onsite photovoltaic solar panels, positioned and oriented based on several sun-tracking studies, are expected to generate enough electricity to meet energy needs on an annual basis.  
A vertical axis wind turbine, the first to be commissioned in the City of Pittsburgh, can produce energy with winds as low as 4.25 mph. 
A series of geothermal wells buried 500 feet below ground are used to capture heating and cooling energy from the earth's consistent 55-degree temperature.
Working in conjunction with the geothermal wells, a Rooftop Energy Recovery Unit is expected to reduce HVAC energy requirements by 40 percent. 
---
Water: Conservation by the Drop
Water — a precious natural resource that supports all life — is becoming an increasingly scarce commodity, making global conservation a great necessity. At the CSL, we do our part by employing several strategies to capture and treat all water on site for later use. This lessens impact on the City of Pittsburgh's combined sewer system, which diverts sewage into our waterways when it overflows. 
All sanitary water that comes from sinks and fountains, and that is used to flush toilets, is treated on site and reused for flushing. Carrying out this task without chemicals is a constructed wetland that uses natural processes involving plants and microbes, and several sand filters. 
A UV system further cleans the water, some of which is stored in tanks for later use.
A lagoon situated in the landscape works to store rainwater while replicating the natural water treatment process that occurs in wetlands and marshes. 
Rain gardens, pervious asphalt and a green roof prevent run-off by allowing rainwater to seep back into the ground, while excess is stored for reuse in 80,000-gallon underground rain tanks.
---
Materials: The Building Blocks of Life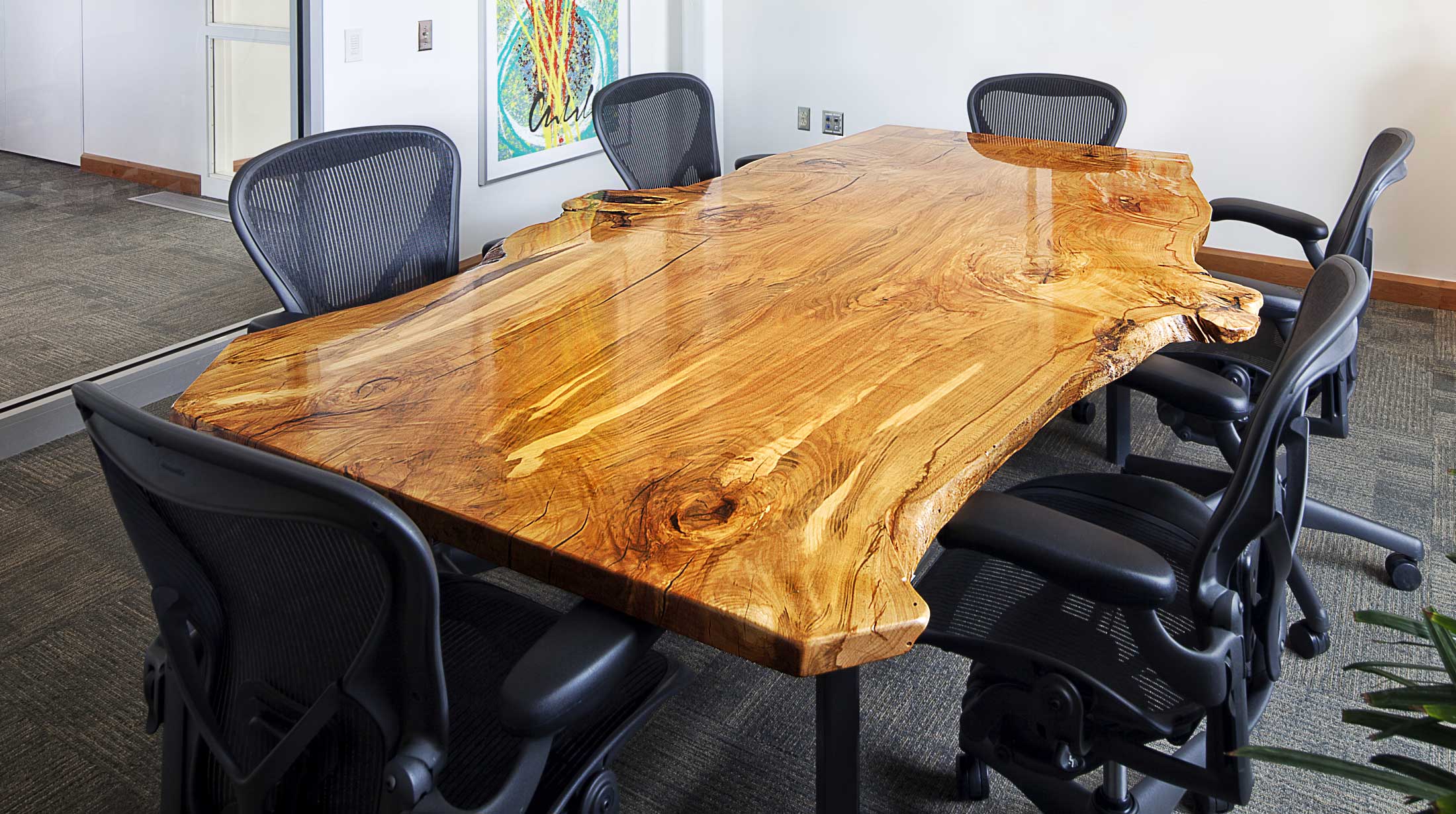 The CSL was built using products and processes that have been deemed as safe for occupants, as well as all species of plants and animals.
Salvaged materials comprise 10 percent of those used, including siding made from deconstructed western Pennsylvanian barns, Belgium block, granite and old Department of Public Works fuel tanks that have been safely converted to store cleaned sanitary water. 
Recycled materials — such as structural steel, insulation, rain tanks and flooring — account for 30 percent of those used on site.
Regional materials harvested, extracted or manufactured within a 500-mile radius of Phipps make up 82 percent of the total required to develop the building and landscape, including soil, plants, stone, concrete, steel and glass.
All materials were sourced in compliance with the Living Building Challenge's Materials Red List, which identifies the toxic chemicals most commonly used by manufacturers. 
---
Site: A Sense of Place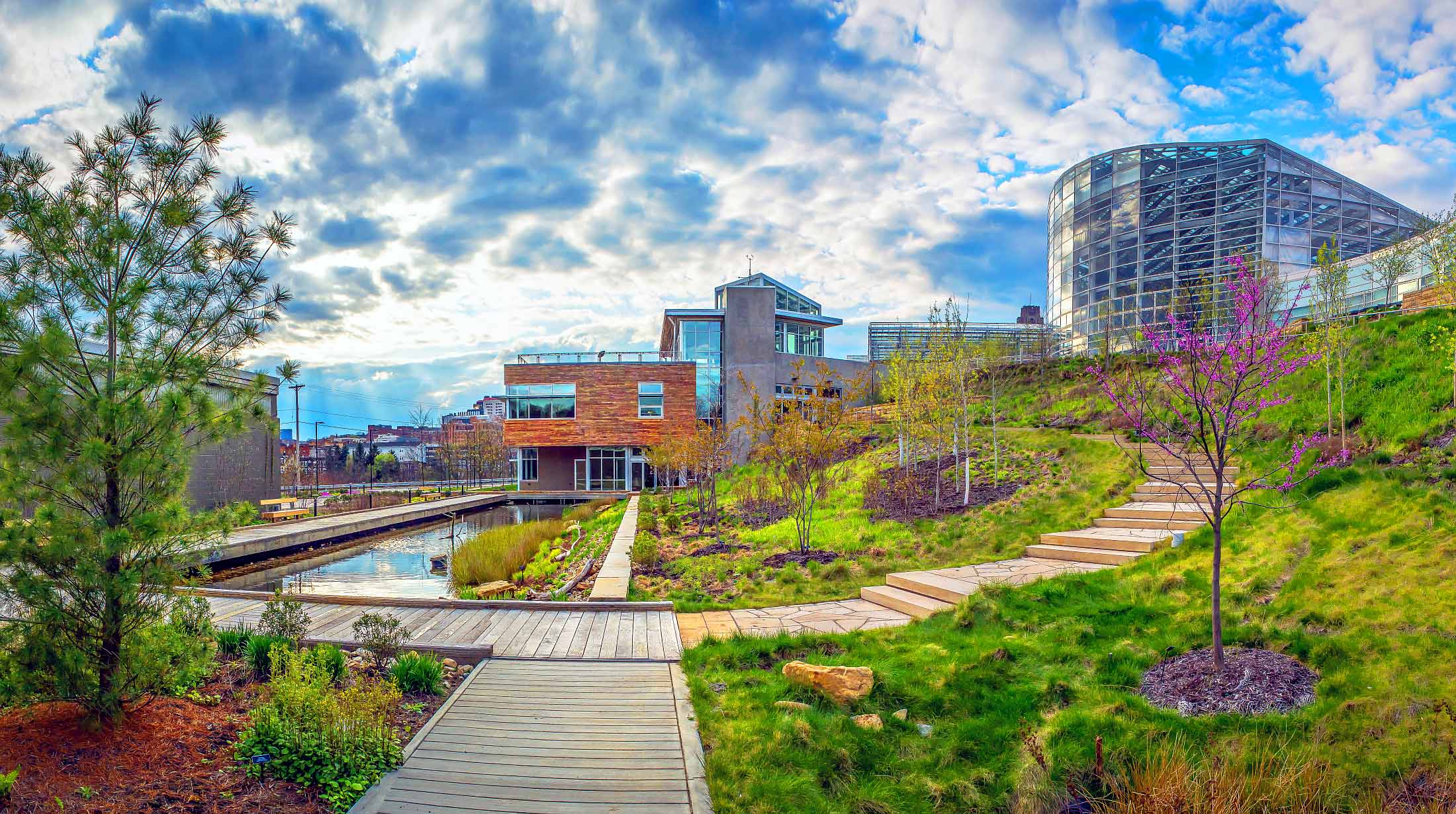 Principles of sustainable design carefully dictate both where and how to build so that new constructions work with, rather than against, nature.
The CSL stands on a former brownfield, a space once compromised by the presence of a hazardous substance, pollutant or contaminant. This site has since been successfully restored, and is now healthy and safe for people, plants and animals. 
The landscape features native plants that are found growing naturally within a 200-mile radius of the CSL. The green roof highlights edible varieties that can be harvested for use in educational programming or at Café Phipps while also insulating the CSL and capturing rainwater for reuse. View the complete plant list.
---
Health: Bringing Nature Indoors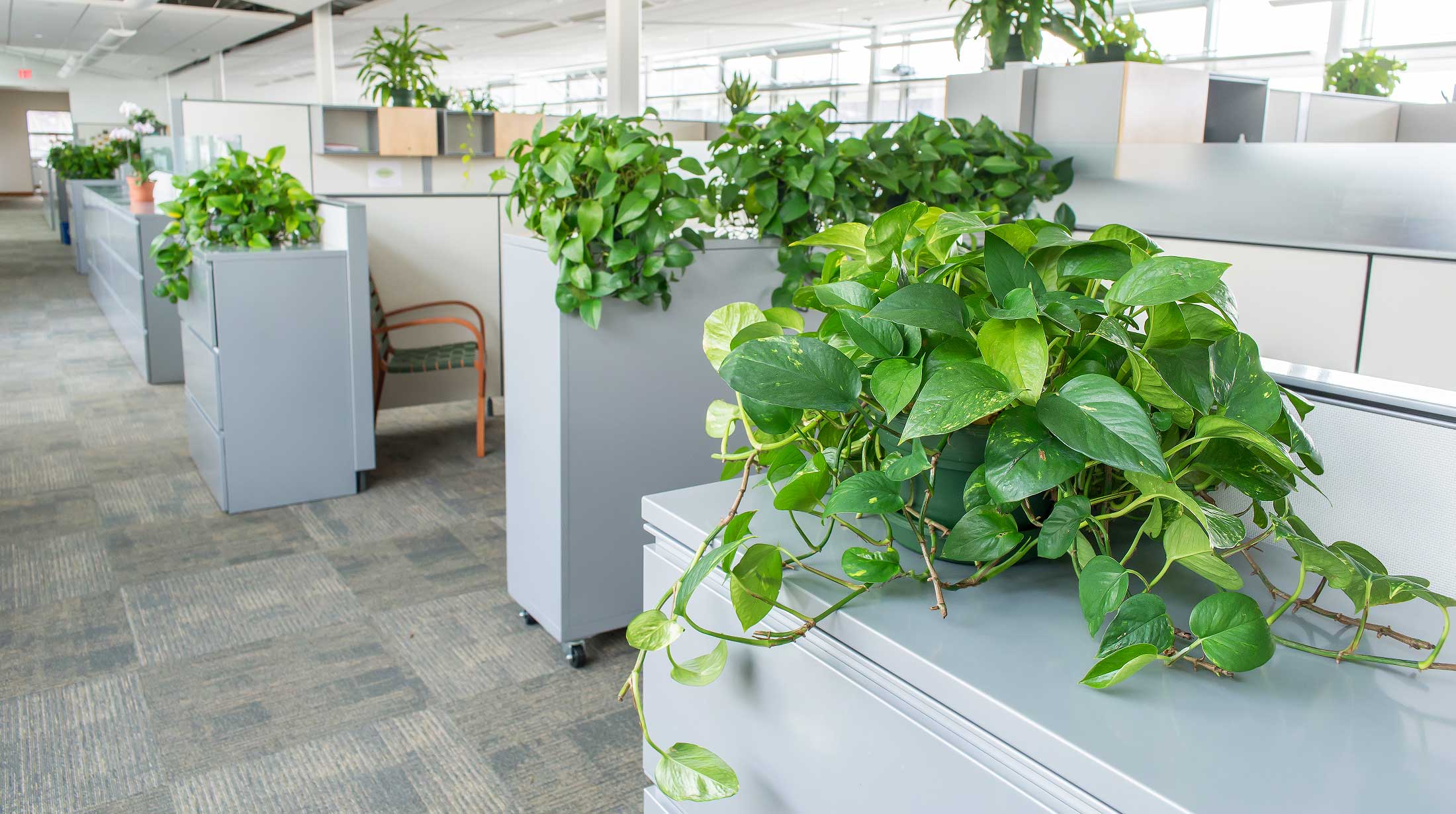 The CSL was designed and built to promote the health and well-being of the people working and learning inside. 
Operable windows provide fresh air and views of nature.
The building orientation maximizes northern and southern exposure, allowing for natural light to illuminate the interior space.  
Indoor air quality is monitored and conditioned to ensure a healthy atmosphere. 
Clean air plants — species adept at removing pollutants —help occupants breathe easier.
Occupant wellness is advanced through adherence to WELL Building certification standards and a local commitment to employee health and well-being as a Live Well Allegheny Workplace. 
---
Beauty: Living in Harmony with Nature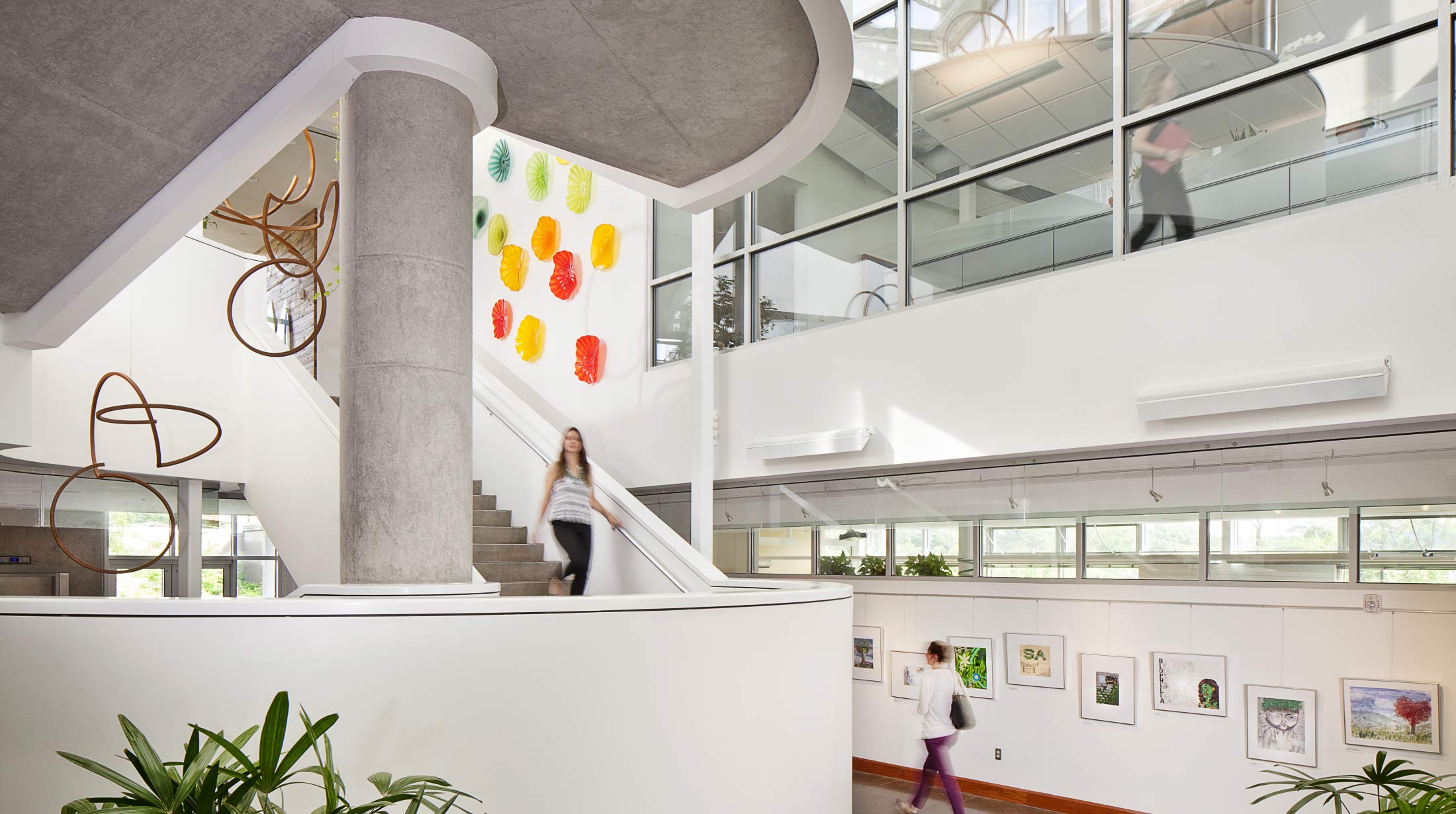 Beyond the delight this beautiful building inspires in the beholder, the CSL is a symbol of hope for generations to come, providing a glimpse of the harmonious future within our grasp and operating as an important catalyst for change.
A key component of our mission is to inspire and educate. The CSL is a place where guests can gain knowledge about healthy, sustainable living, and where children can learn and engage with nature in a living classroom that constantly evolves.
The CSL serves as a global model for sustainable design and operations, helping to inspire others to reconnect with nature now as a means to live more sustainably in the future.
Since 1893, we have been connecting people to plants. The CSL carries on with this tradition by showcasing the vital role plants play in our lives — from cleaning water for reuse to providing food and wildlife habitat within a picturesque landscape. 
Biophilic art that celebrates the bonds between people and nature is displayed on every floor.
Sustainable Features
Revolutionary Energy Efficiency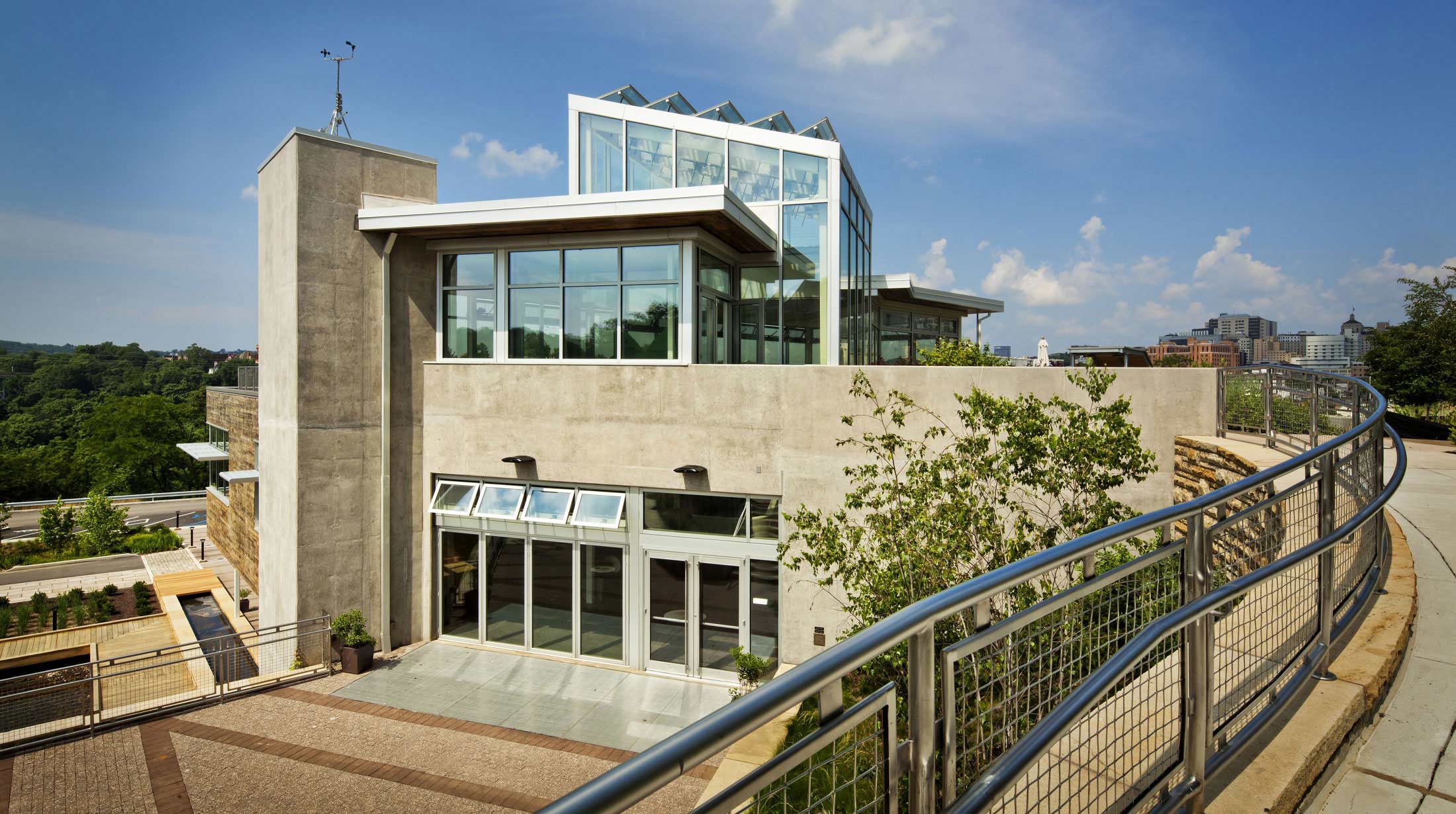 Achieved the International Living Future Institute's Living Building Challenge certification, the highest performance standard for sustainable building practices, in March 2015
Achieved Living Building Challenge Net Zero Energy Building Certification in February 2014
LEED® Platinum certified with a score of 63 out of 69 points for a new construction under version 2.2; only one other new building has achieved this level of green building distinction
In first operational year, achieved with a 68.7% reduction of energy usage versus traditionally-designed buildings per EPA's Target Finder
Designed to reduce capacity requirements for HVAC systems and associated infrastructure (power, pipes, ductwork, pumps, etc.) by 30-40%
---
Facilitated Integrated Design Process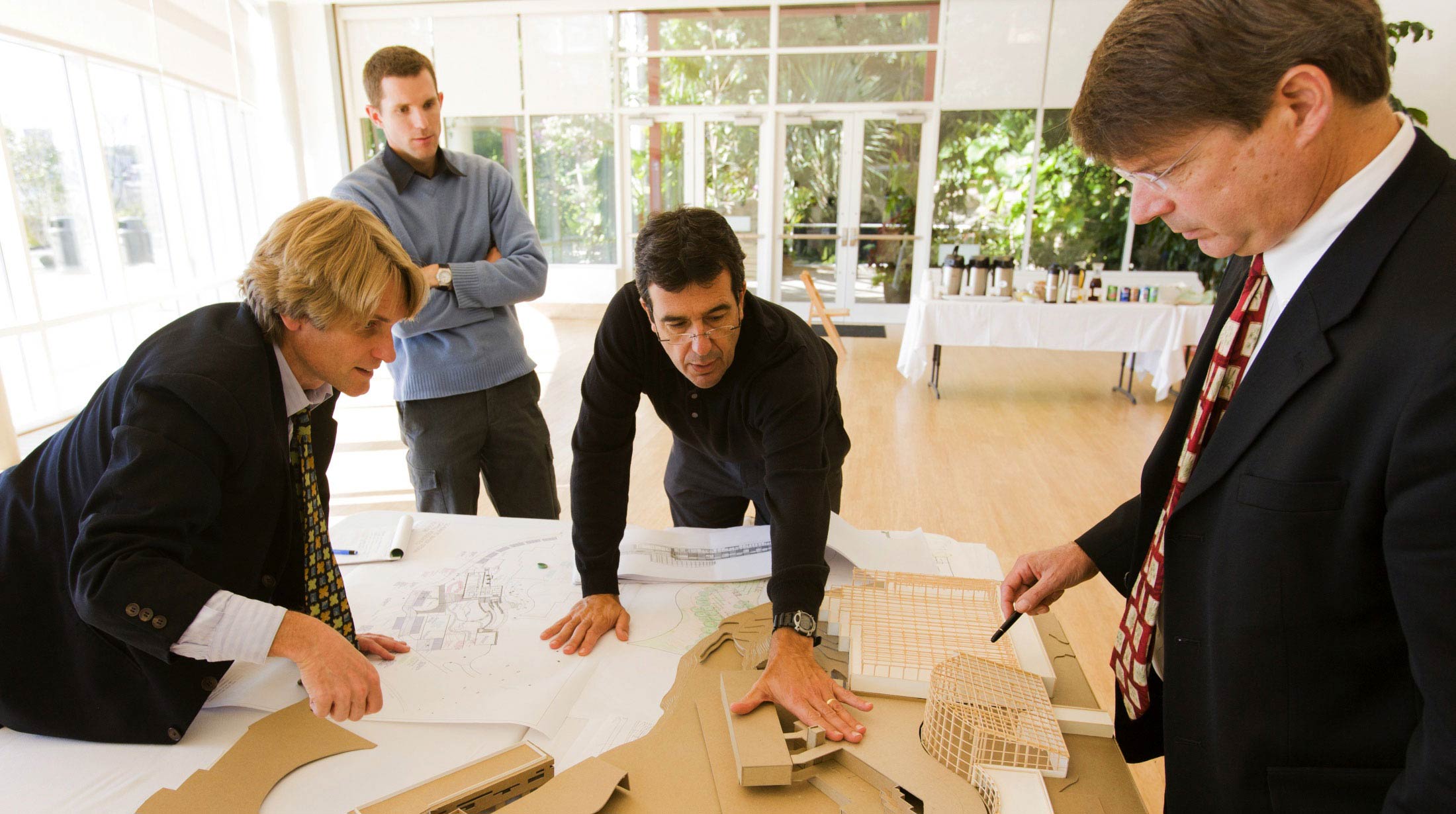 Comprehensive evaluation of end user's operational needs, building's functionality, site, and architectural and engineering systems
Bi-monthly charrette workshops between design team and Phipps staff throughout entire two-year design and planning process
Video documentation of process for distribution and broadcast
Building in Bloom case study book, the first of its kind for a Living Building Challenge project, published by International Living Future Institute in 2013
---
Passive Solar Design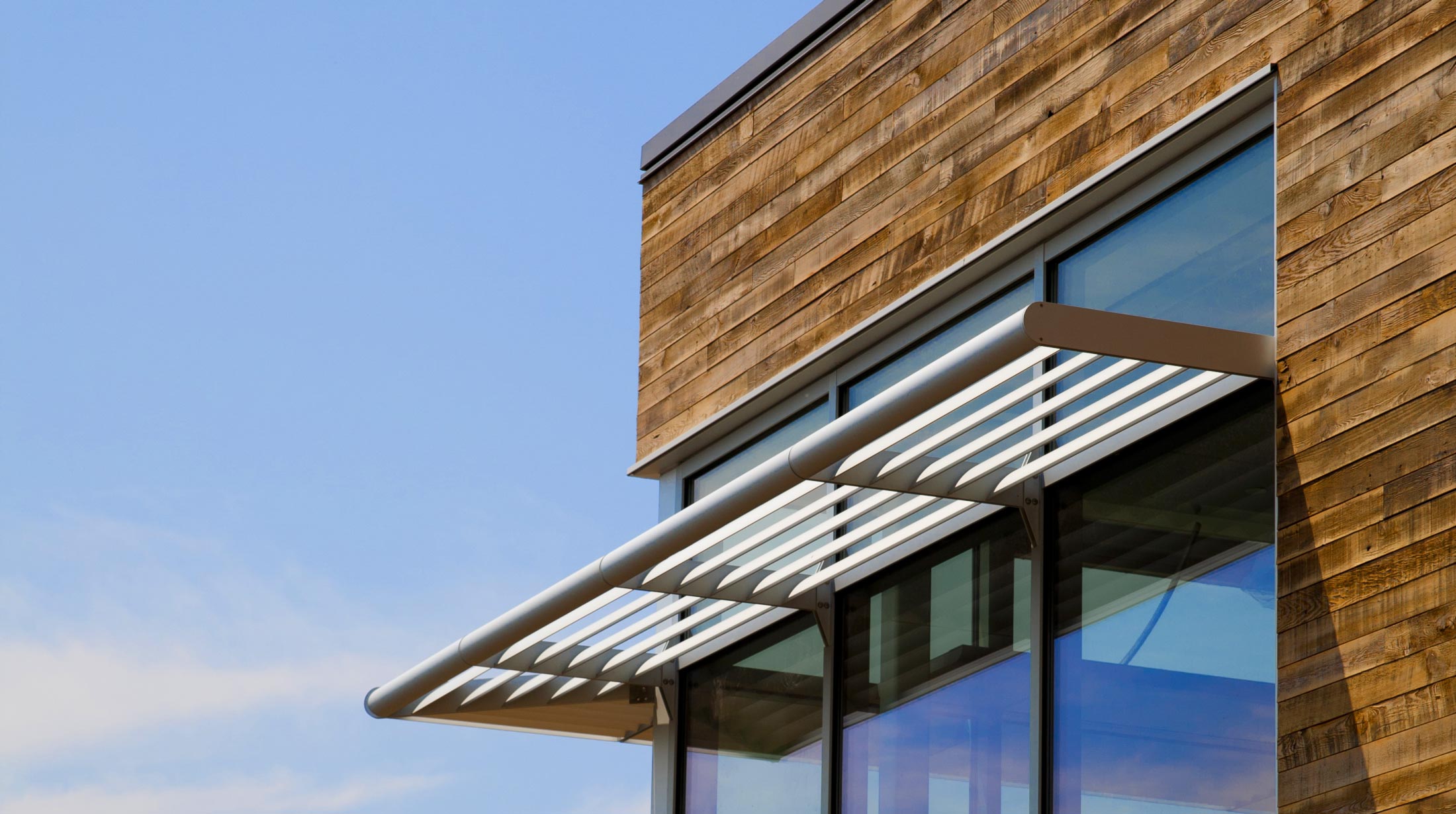 "Outside-In, Passive-First" strategy
Overall building energy usage minimized through passive design strategies for typical operation
High performance targets: improved envelope, heating, ventilation and cooling, lighting, power, and water conservation
Building orientation maximizes northern and southern exposure for 80% daylight autonomy and passive solar controls
Light shelves, louvers and overhangs minimize summer cooling loads and contribute to building heating in winter
Brise-soleil screens reduce summer cooling loads
Atrium is not mechanically heated nor cooled; thermal massing, high-performance operable glazing, solar shading, and phase-change material maintain comfortable temperatures
---
Robust Building Envelope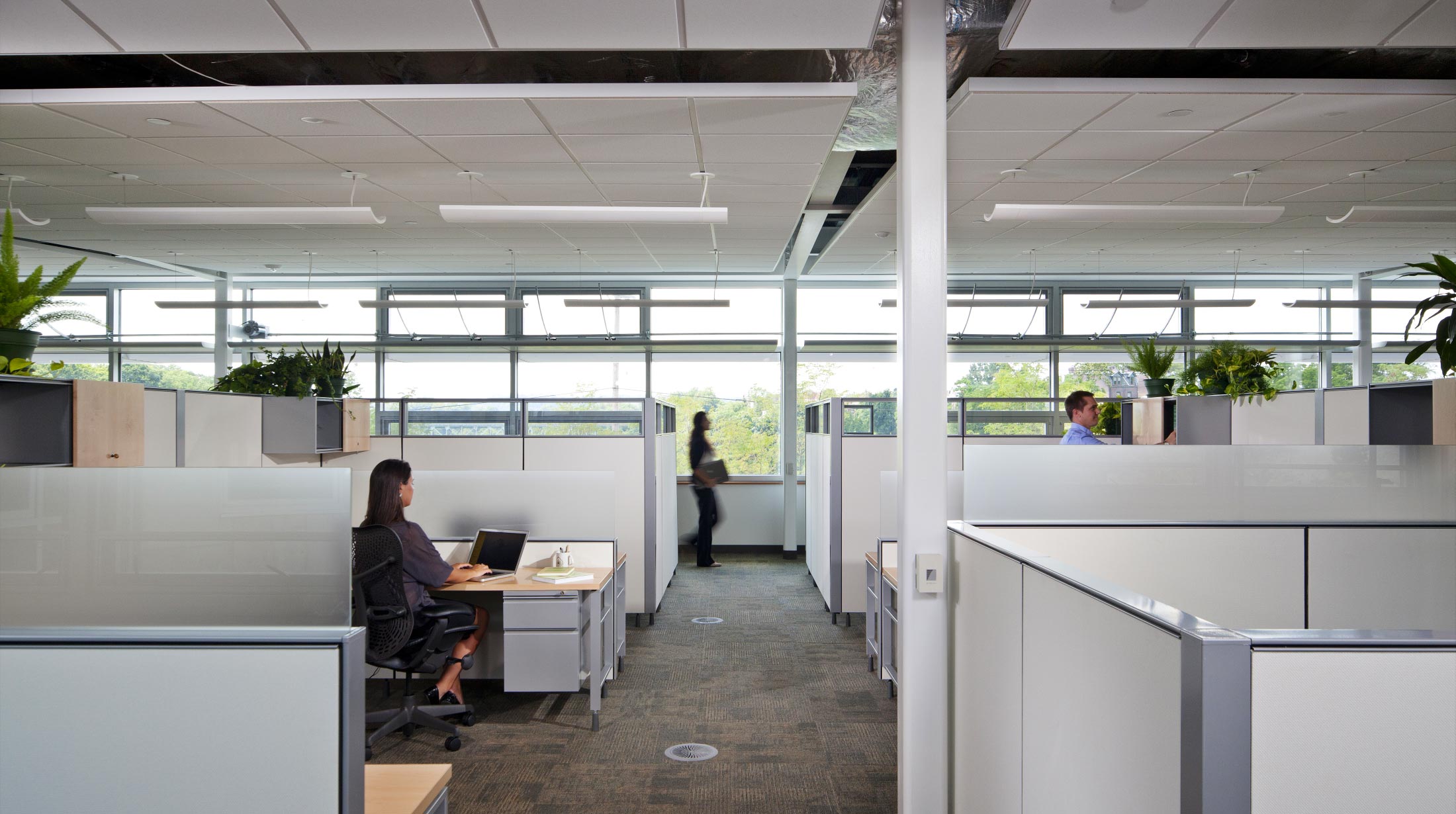 Provides optimal energy efficiency
Building envelope reduces thermal heating losses and solar cooling loads, and maximizes natural daylighting
High performance wall and roof insulation reduce winter heat losses and summer heat gains
High performance, low-e (low-emissivity) windows provide state-of-the-art solar and thermal control and energy efficiency, while admitting maximum daylight
---
Geothermal Heating and Cooling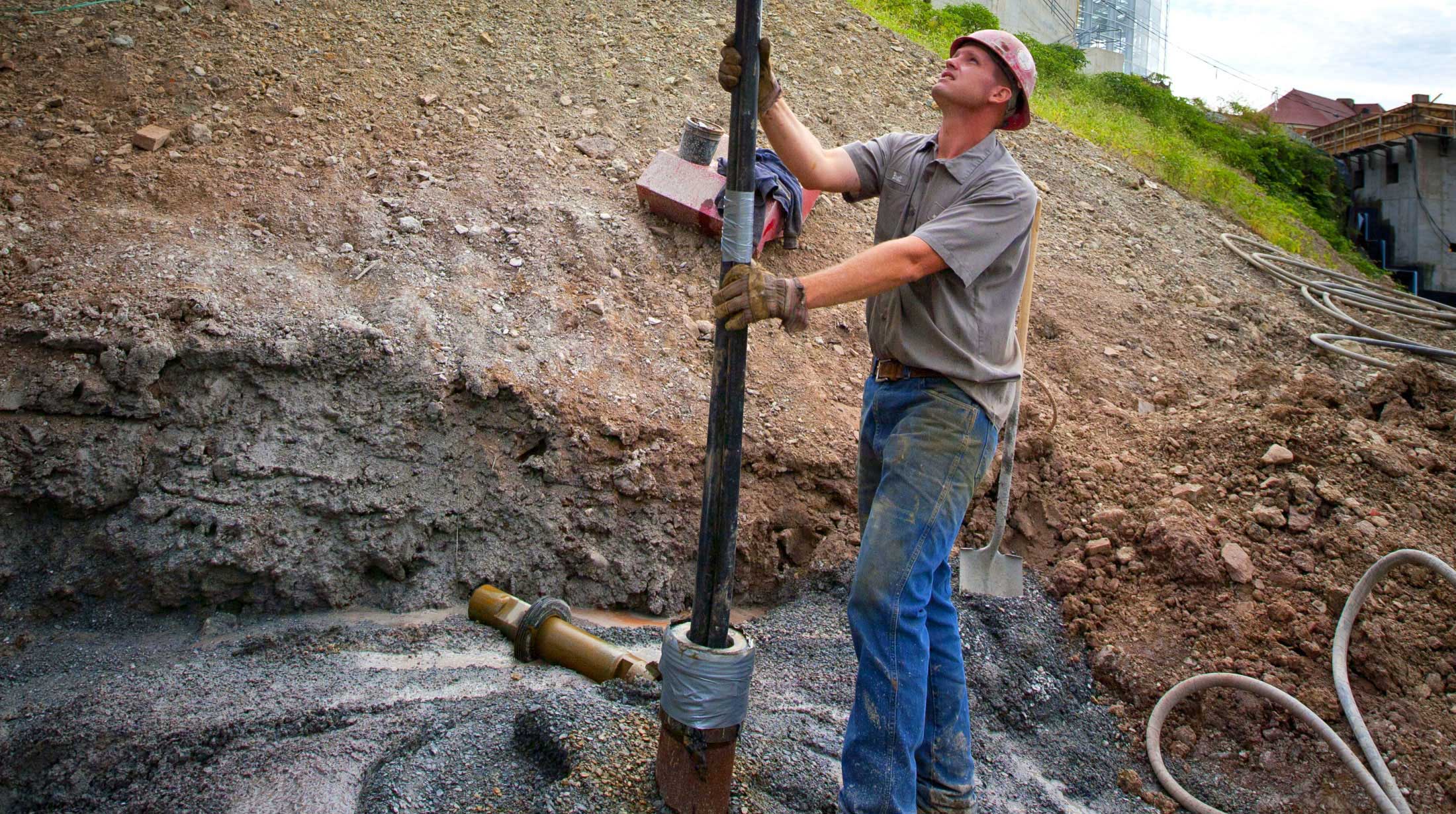 A ground-source geothermal HVAC system generates heat and cooling
14 geothermal wells of 510 ft deep boreholes with PEX (crosslinked polyethylene) tubing loops
System expected to capture about 70% of its heating and cooling energy from the ground's consistent 55°F (13°C) temperature
Geothermal system works in conjunction with the Rooftop Energy Recovery Unit to provide heating, cooling, ventilation, and dehumidification
In summer, heat removed from the Heat Pump refrigeration cycle is absorbed by the water circulated in the wells and the cool ground
In winter, warmth stored over the course of the summer season is recovered from the wells to heat the building spaces
---
Rooftop Energy Recovery Unit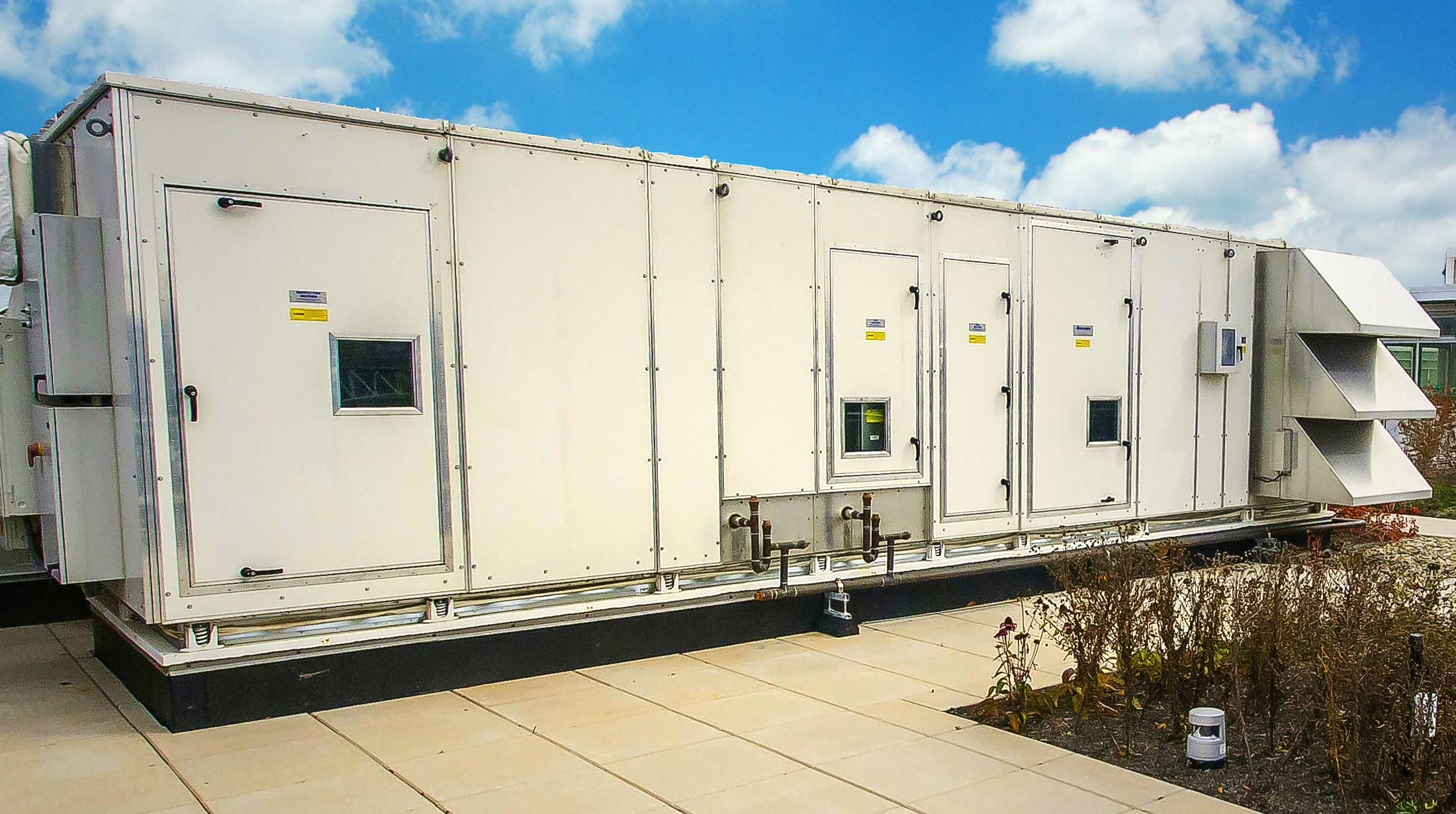 Uses ground-source geothermal capacity, modulating between 19.4% and 100% outside air based on need
Economizer cycle provides "free cooling" and enhanced natural ventilation using outside air when ambient temperatures are cooler and drier than indoor temperatures, without mechanical refrigeration
Desiccant wheel utilizes energy that would otherwise be exhausted pre-cools and dehumidifies outside air to reduce cooling loads of hot moist outside air in the summer with minimal energy use and without mechanical refrigeration; also pre-heats and humidifies incoming cold outside air in winter
Maximized outside air and a high performance MERV13 air filter provide superior indoor air quality
UV Lighting included to reduce the potential for microbial growth
Geothermal heat pump system is energized when economizer and desiccant wheel cannot maintain comfort conditions due to extremes in outside weather conditions
---
Building Management System (BMS)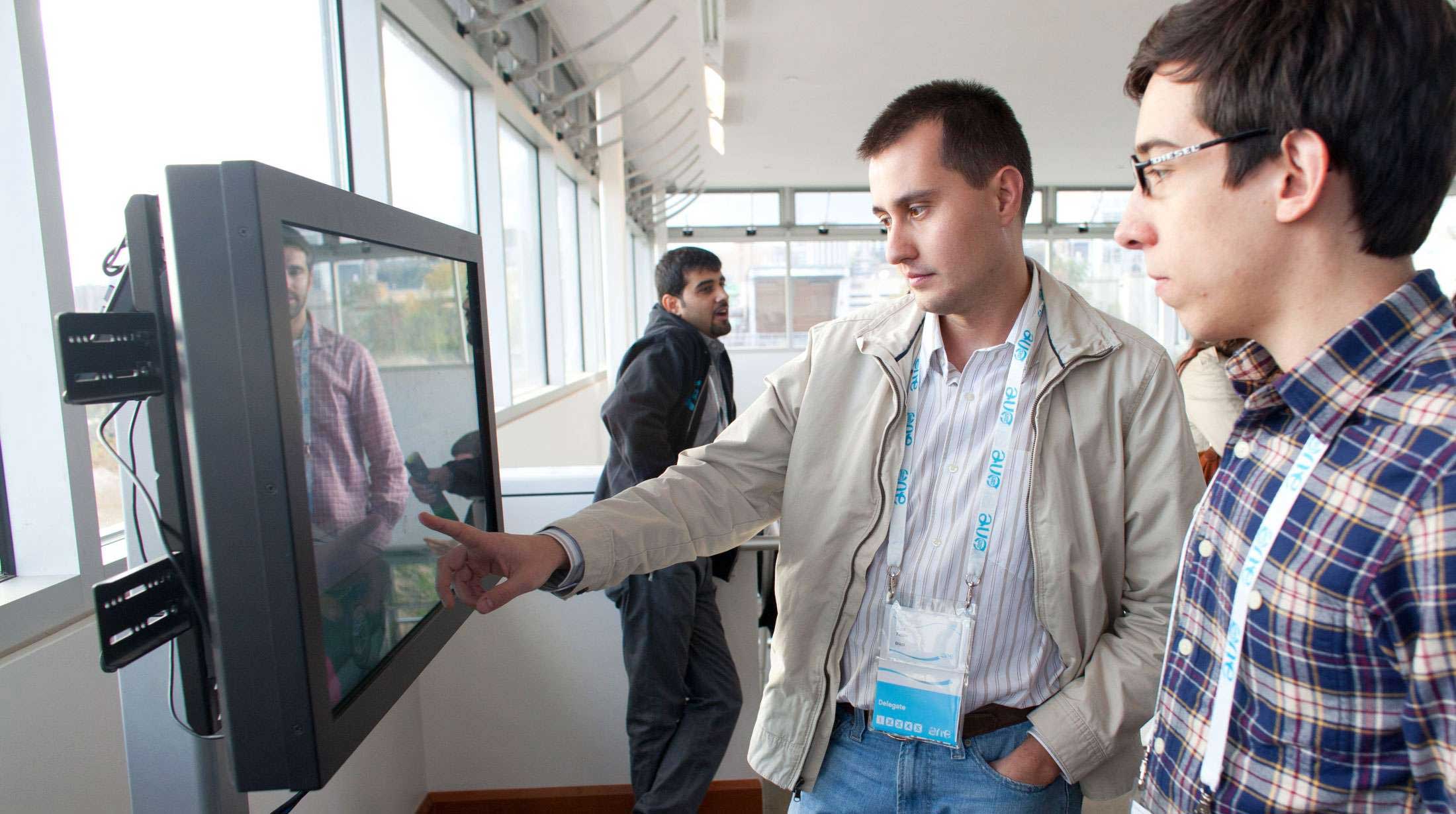 Direct digital control (DDC) building management system monitors, controls, and provides feedback on various systems for optimal energy efficient operations
Responds to current conditions, predicts daily ambient temperature and humidity swings based on time of year, and uses past historical weather patterns
Notification system alerts occupants if temperature, humidity and air quality conditions are favorable for opening windows, while also locking out mechanical systems
Meters and sensors provide building operating profiles and trend data to monitor energy efficiency on an ongoing basis
Favorable temperatures and humidity levels trigger a "night purge" to draw cool, dry outside air through building spaces
---
Solar Photovoltaics (PVs)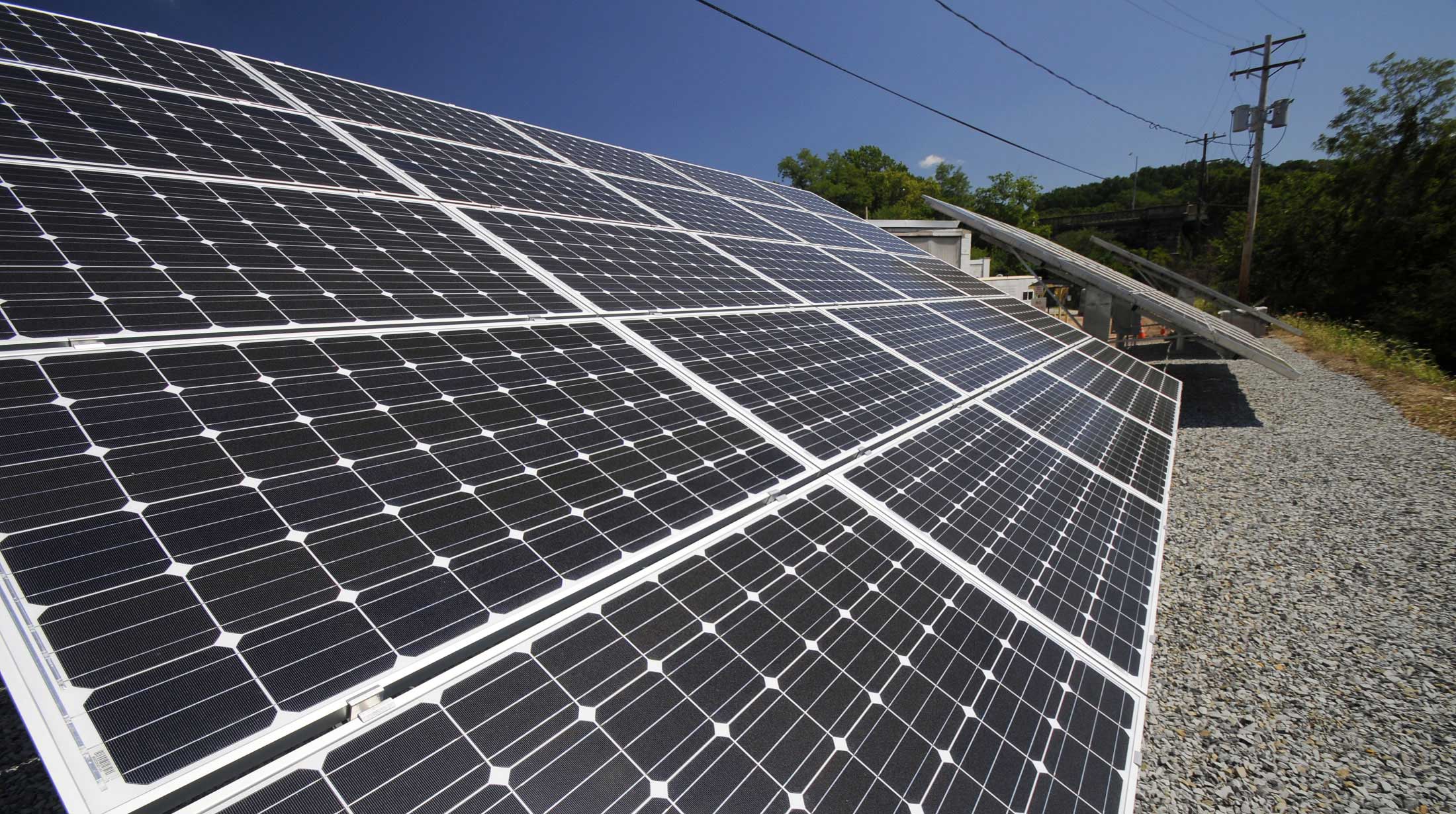 Renewable energy system generates electricity from the sun
Contributes to the net zero energy approach of offsetting 100% of the annual energy consumption of the CSL facility
Adjacent facilities building and Special Events Hall roof surfaces provide ideal near-southern orientation for solar PV
Building Management System meters and sensors collect and report on renewable energy generation from solar PV
Excess generated energy serves upper campus electricity needs
---
Vertical Axis Wind Turbine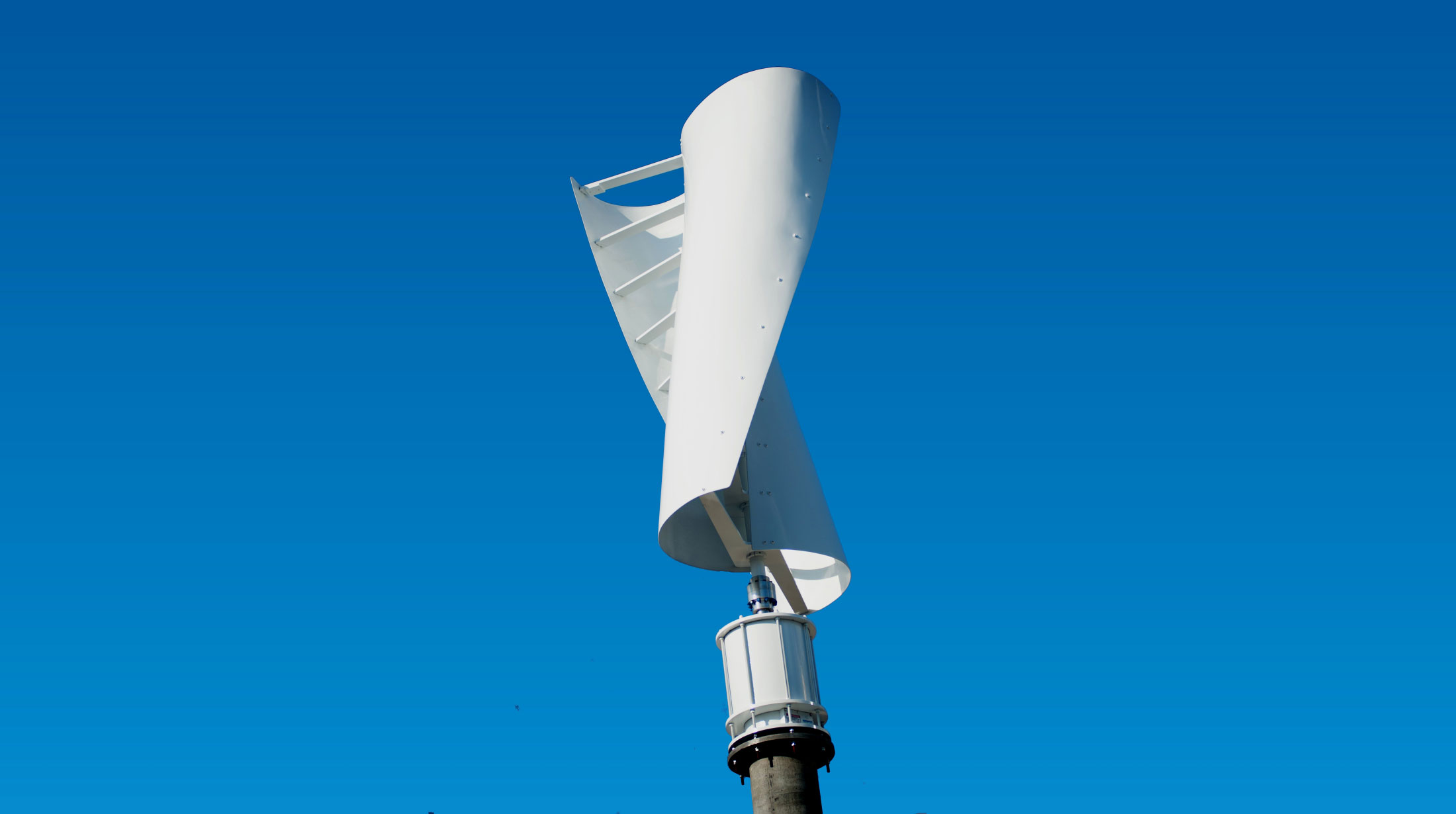 Renewable energy system generates electricity from wind
Contributes to the net zero energy approach of offsetting 100% of the annual energy consumption of the CSL facility
Elevation of the site above Panther Hollow promotes favorable conditions for wind generation
Building Management System meters and sensors collect and report on renewable energy generation from vertical axis wind turbine
Excess generated energy serves upper campus electricity needs
---
Natural Ventilation
Operable windows provide natural ventilation in administrative, educational, and support spaces
Computational fluid dynamics study determined optimal window location for natural airflow
An expanded upper comfort temperature setpoint of 78°F (25.5°C) instead of a typical 72°F (22°C) thermostat setpoint maximizes the number of hours of natural ventilation
Reduces HVAC system fan energy usage
Notification system alerts building occupants when conditions are appropriate to open windows
---
Demand Controlled Ventilation (DCV)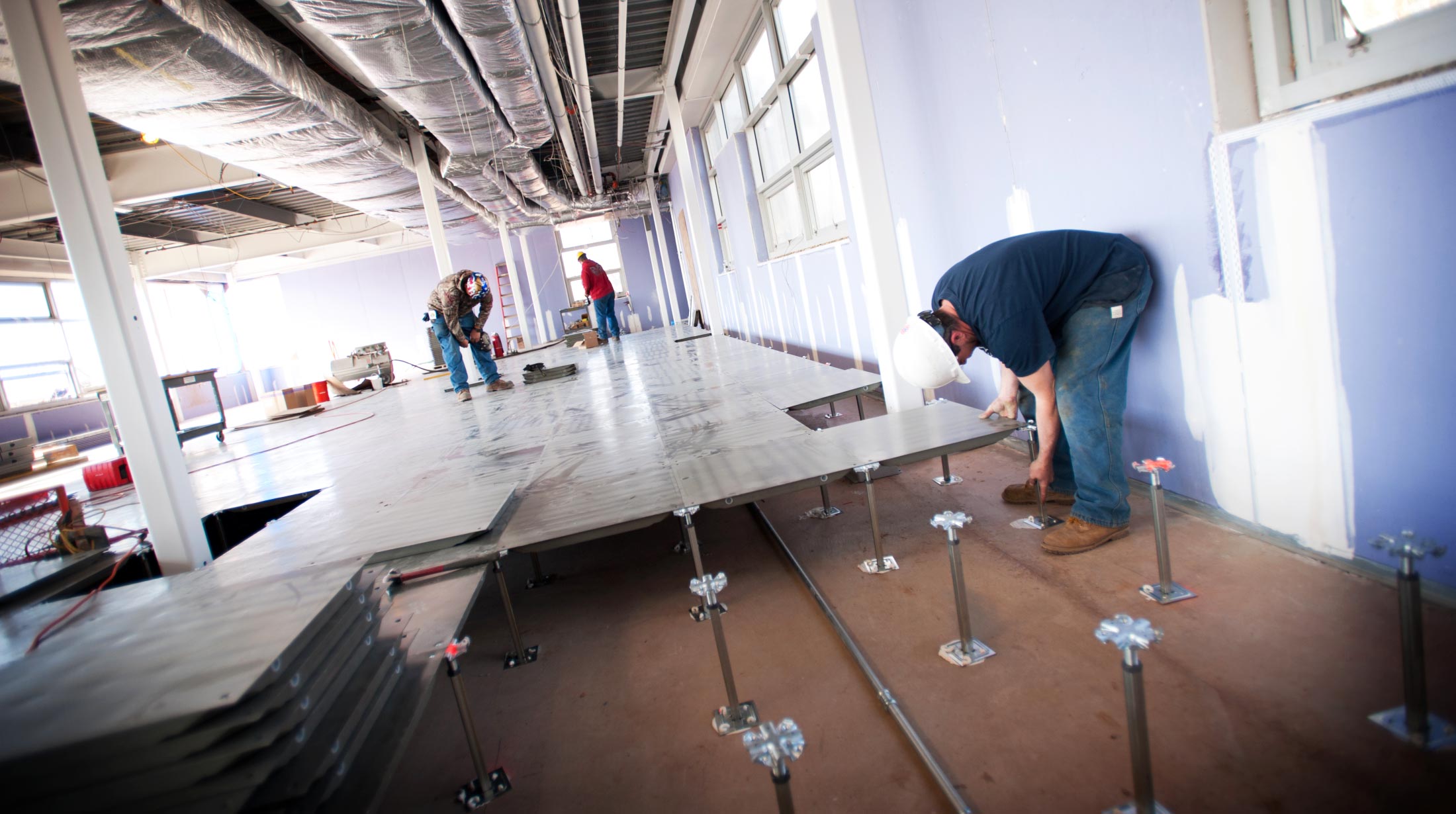 Aircuity system monitors temperature, humidity, CO2, TVOC, particulates and CO in occupied spaces, ensuring high quality air delivery through underfloor and ceiling distribution systems
Breathing zone air ventilation rates are 55% above ASHRAE Standards 62.1-2004 requirement
At less than full building occupancy, the DCV system reduces ventilation air volume, and thus reduces energy required to heat or cool and dehumidify the ventilation air
---
Minimally Conditioned Atrium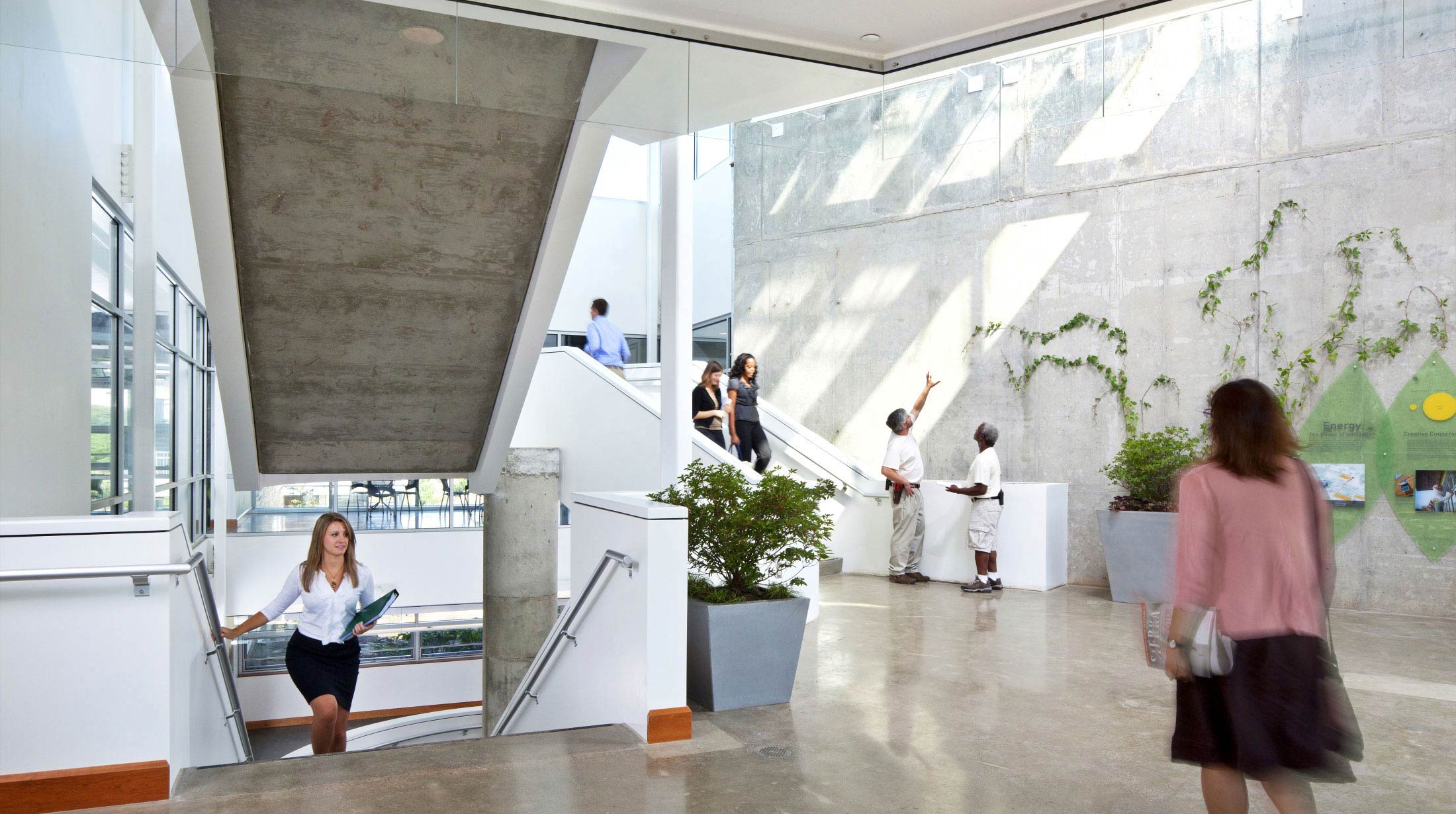 100% passively cooled
Passive heating strategies and winter solar collection take advantage of thermal massing in walls, ceilings and floors
High-performance operable glazing, solar shading, and phase-change material maintain comfortable temperatures
---
Daylighting
Extensive daylighting amplifies most spaces for 80% daylight autonomy
Light shelves and an interior daylight ceiling "cloud" maximize the depth of daylight penetration into the space
Ceiling cloud surface and interior finish color schemes provide high reflectance values
When natural daylight is insufficient, high performance, energy efficient T-5 fluorescent lighting equipped with daylighting sensors, controls, and dimming ballasts are engaged
Occupancy sensors turn off lights in unoccupied rooms
All regularly occupied spaces within 15 feet of operable windows to maximize quality of light and air
LED task lights provide additional light if necessary
---
Sustainable Materials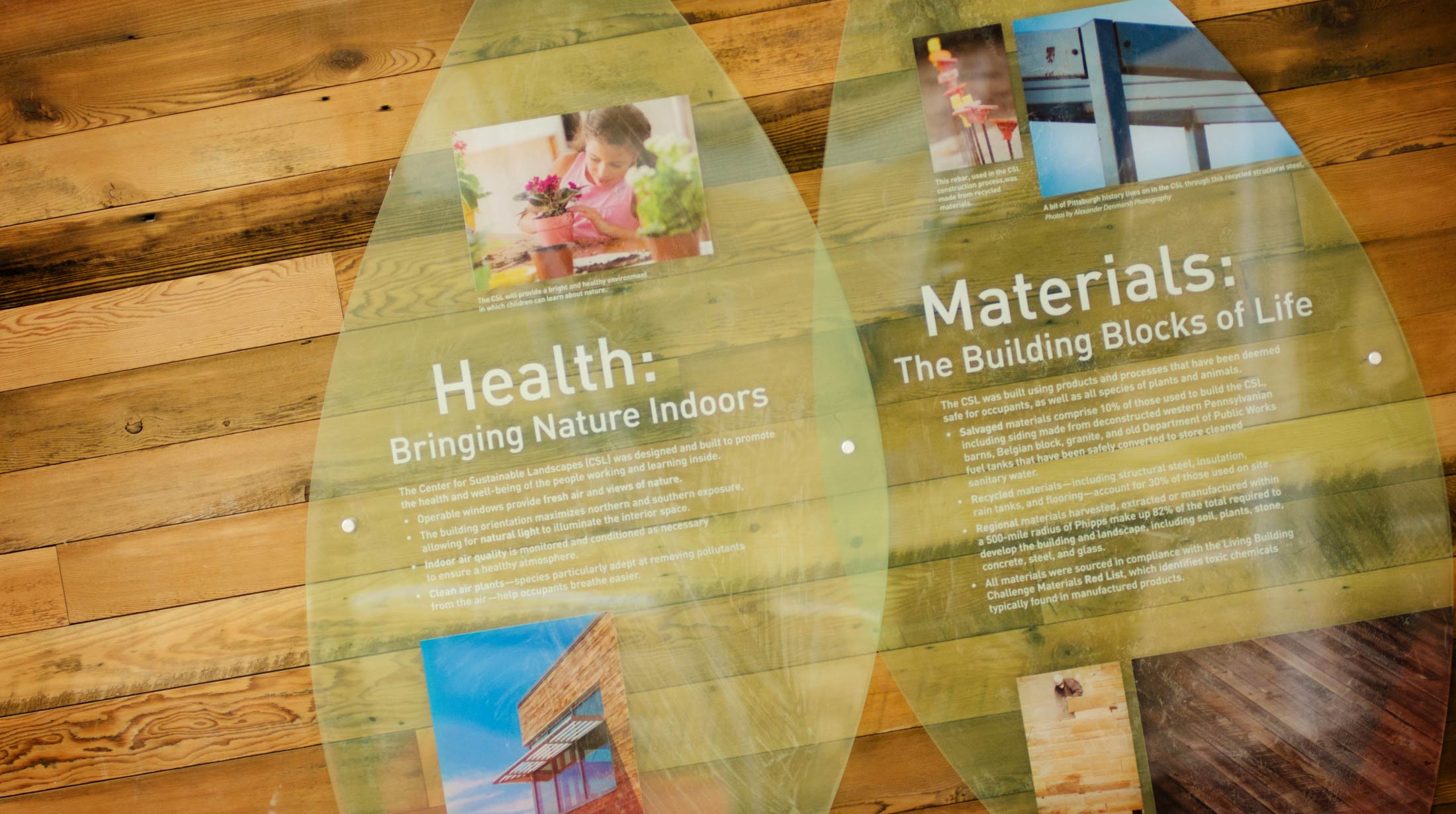 During construction, 96.74% of construction waste was diverted from landfills through efficient site design, recycling and reuse
Sustainable and innovative materials and finishes applied throughout the building and site
Rigorous vetting process guided sourcing materials compliant with Living Building Challenge Red List, which identifies for elimination material components that negatively impact the environment and/or people exposed to them
Materials include those that are locally produced, low VOC and formaldehyde free; have high recycled content; and are highly durable with long service lives and ease-of-maintenance
Wood salvaged from deconstructed Western Pennsylvania barns for exterior building skin
All interior wood furniture reclaimed and/or FSC certified
---
Sustainable Landscape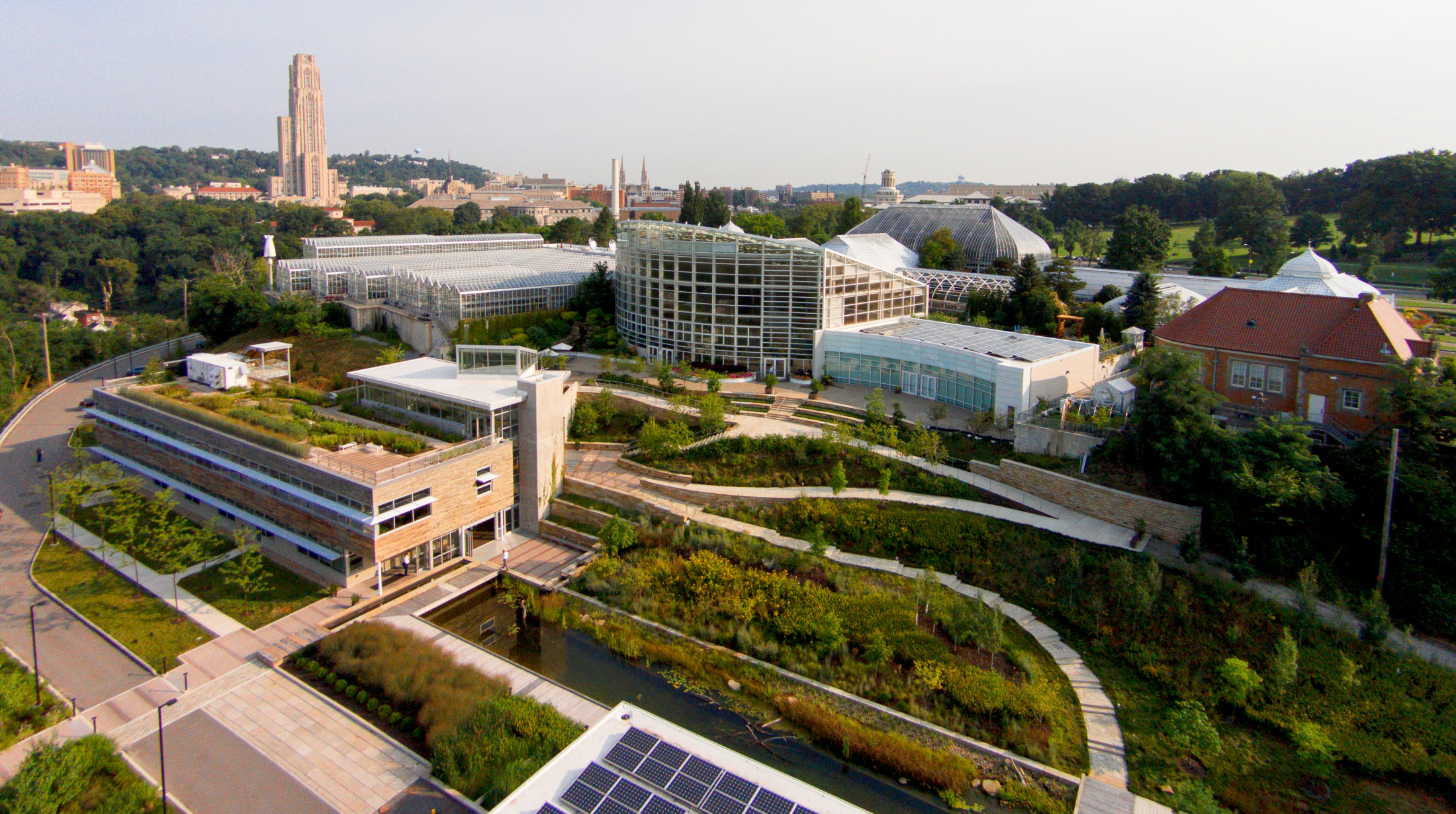 Pilot project for Sustainable Sites Initiative™ (SITES™) certification for landscapes, becoming the first project ever to achieve Four-Stars certification in November 2013
2.9-acre project site was previously a dilapidated brownfield, once used a municipal fueling station, which suffered through decades of environmental devastation
Sustainable landscape features over 100 non-invasive, native plant species; view the complete plant list
Plants use rain water exclusively for irrigation
Walking trail and boardwalk lead through a variety of landscape communities including wetland, rain garden, water's edge, shade garden, lowland hardwood slope, successional slope, oak woodland and upland groves
Restores natural landscape function, provides wildlife habitat, and offers educational opportunities
---
Green Roof
Reduces volume of stormwater runoff and pollutants in stormwater runoff
Insulates building to reduce HVAC cooling in summer and heating in winter
Retains 85% of annual rainfall
Extensive green roof design with a 8" soil depth and a variety of plants selected for their medicinal, culinary and biofuel uses
Reduces heat island effect
Demonstration gardens for residential applications, especially urban landscapes
Beautifully landscaped space for an event
---
Rainwater Harvesting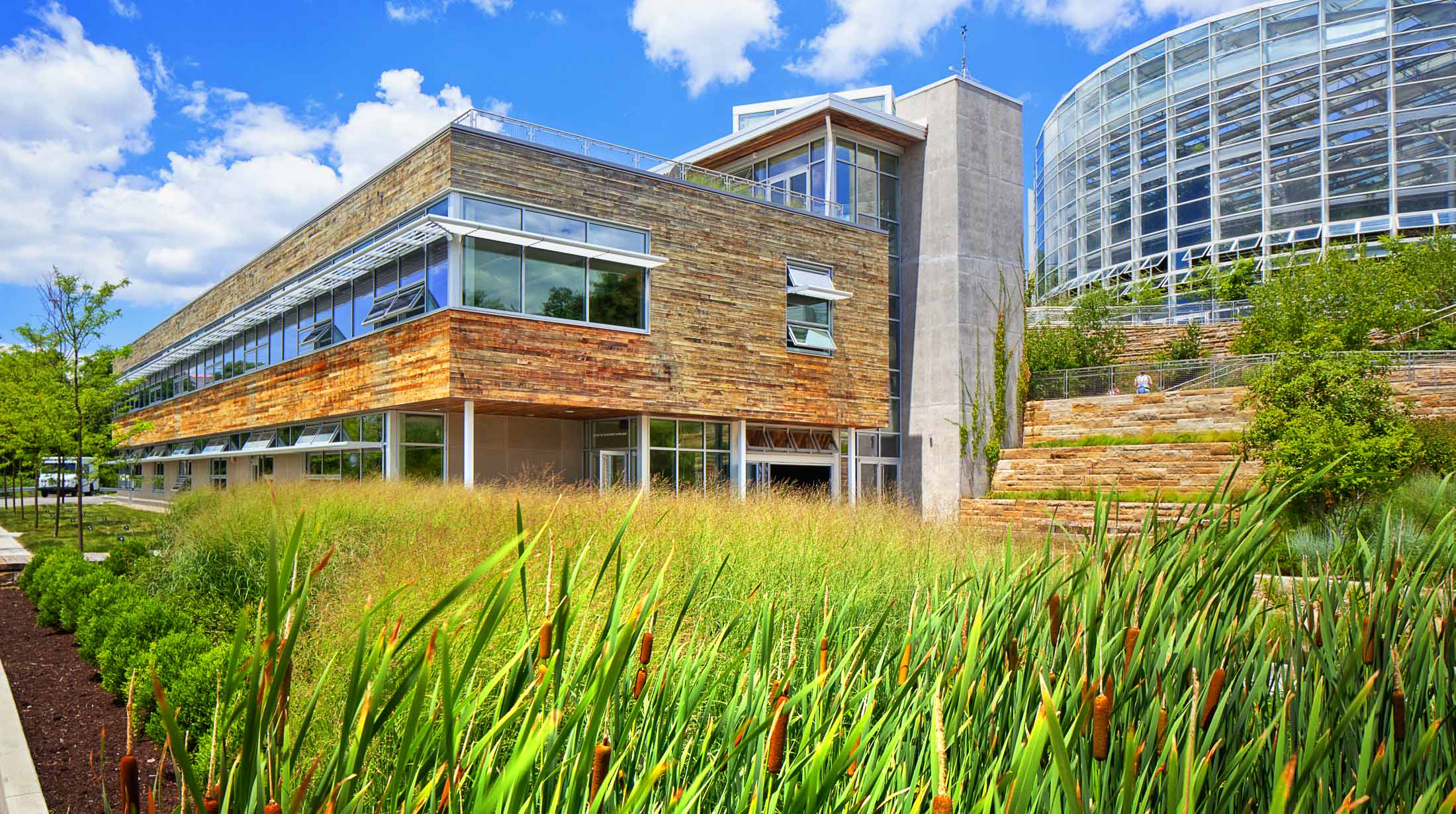 2.9-acre project site is net zero water, managing all rainfall and treating all sanitary waste on site
Site can manage a 10-year storm event (3.3" of rain in 24 hours)
A full ½ acre of rooftop runoff – approximately 500,000 gallons – is harvested from upper campus glass roofs and lower site
Stored in a 60,000-gallon underground rain tank
Rainwater is used for toilet flushing, as well as interior irrigation and maintenance as required
Ultralow flow plumbing fixtures include waterless urinals and dual-flush toilets for water conservation
Harvested water is reused to offset conservatory irrigation needs, greatly reducing impact on municipal sewage treatment and energy-intensive potable water systems
---
Lagoon System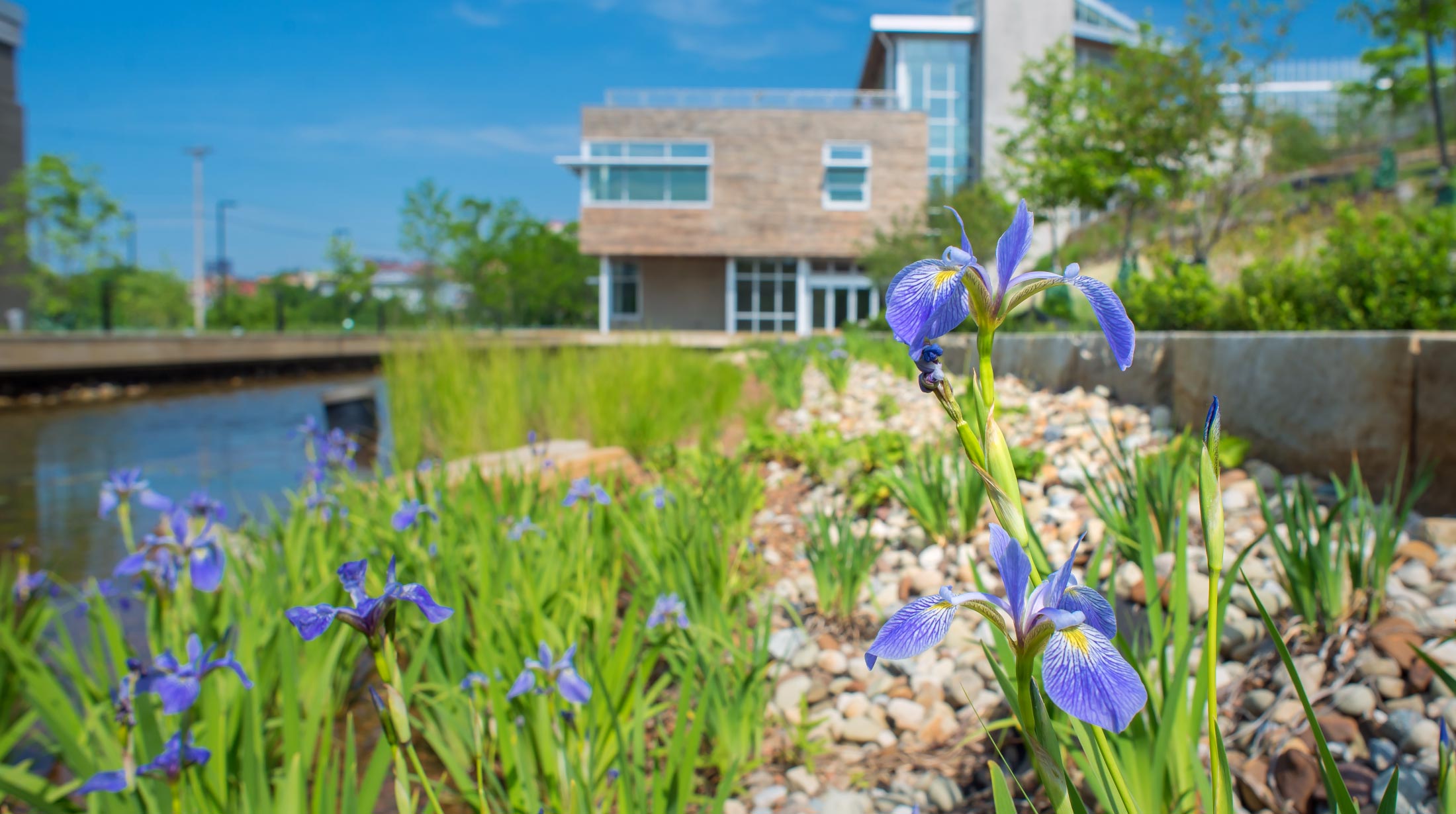 Captures stormwater runoff from portions of the site and the Tropical Forest Conservatory roof
Replicates natural water treatment process that occurs in wetlands and marshes
Water flows through fountains and a lagoon where plants and their symbiotic root microbes absorb organic and mineral nutrients
Water is processed to tertiary non-potable standards
Post-treatment water that overflows the lagoon flows into underground rain tank storage
---
Constructed Wetland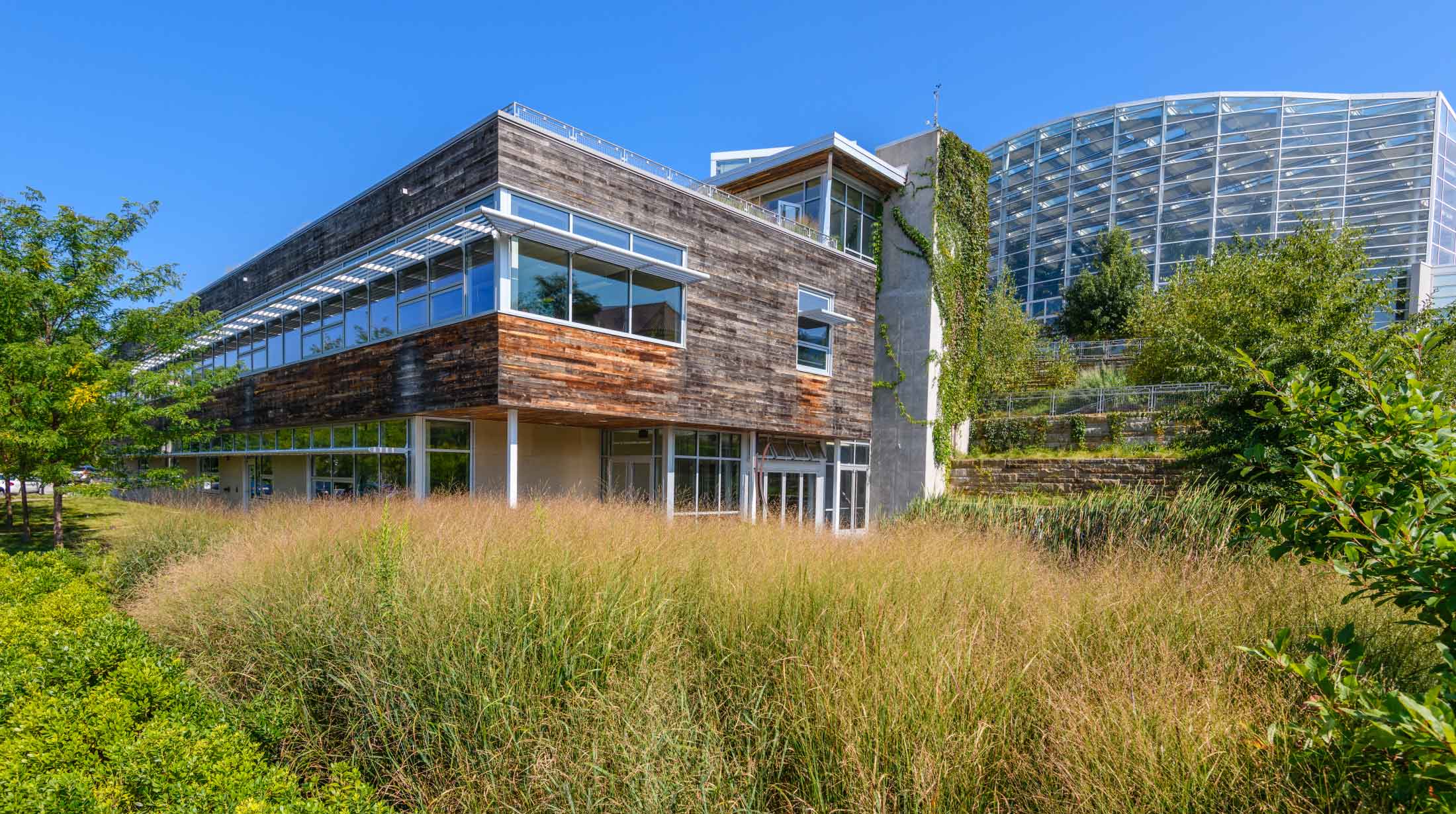 Treat all sanitary water from CSL and adjacent maintenance building
Subsurface flow constructed wetland system
2-stage wetland treatment cell system
Sand filtration provides additional treatment of the wetland effluent
Ultraviolet process disinfects water to gray water standards
Greatly reduces impact on municipal sewage treatment and energy-intensive potable water systems
---
Rain Gardens and Bioswales
Five rain gardens serve ecological and aesthetic functions
Capture site stormwater to allow natural infiltration
Designed with native plants for year round garden interest
Demonstration beds for residential application
---
Permeable Paving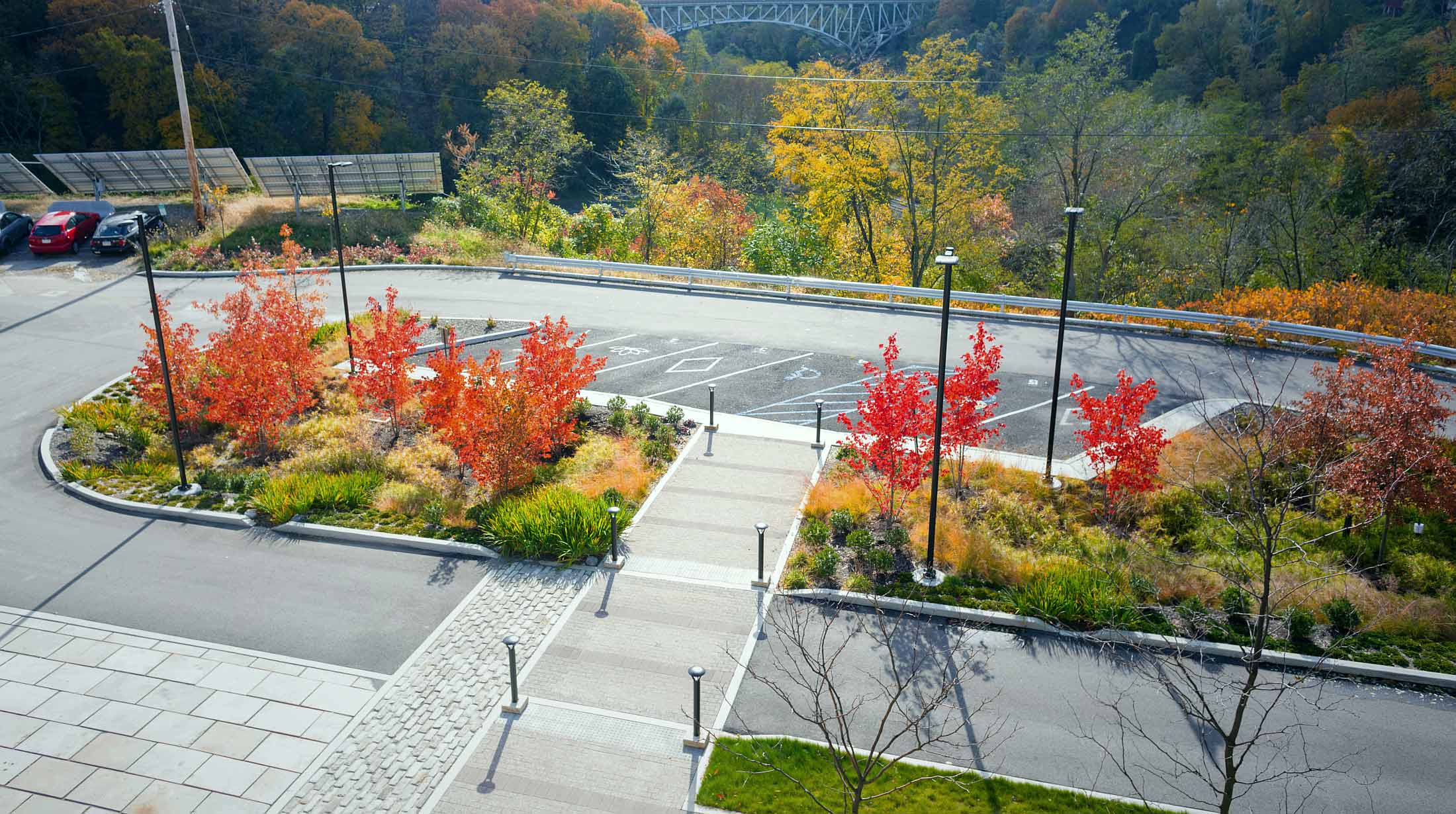 Permeable asphalt
Allows natural infiltration of site stormwater
Research for a Better World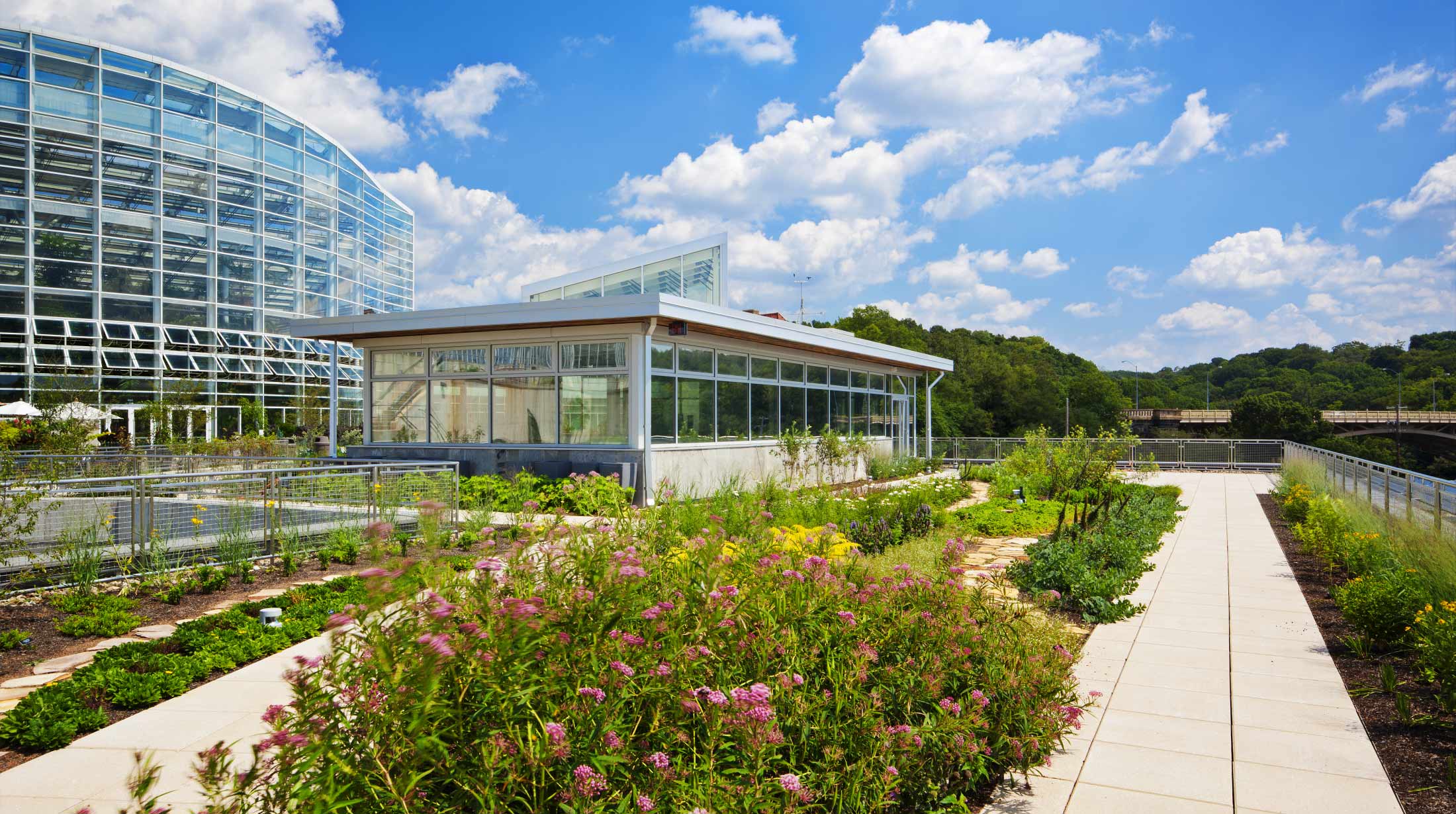 So that we can make even greater advances in the future, the CSL has been designated as a site of continued building performance research aimed at transforming the way that people relate to nature. Carried out in collaboration with our academic partners, the Center for Building Performance and Diagnostics at Carnegie Mellon University and the Mascaro Center for Sustainable Innovation at the University of Pittsburgh, the results of our inquiries will eventually be shared with the global community.
Similarly, the CSL environs offer a wealth of opportunities to study how the strategic integration of building and landscape can provide measurable benefits for people and the planet.  As part of these efforts, the building serves as the home base for Studio Phipps: Sustainable Design Group, which not only conducts its own research and monitoring of site-specific sustainable practices but also offers a wide variety of services to clients seeking to advance sustainability through their projects, helping to build healthier, more vibrant communities.
Project Partners
Pittsburgh and Pennsylvania Based Design Team
The Design Alliance Architects; Architecture, Pittsburgh
Andropogon Associates; Landscape Architecture, Philadelphia
Atlantic Engineering Services; Structural Engineering, Pittsburgh
Civil & Environmental Consultants; Civil Engineering and Water Engineering, Pittsburgh
CJL Engineering; MEP Engineering, Pittsburgh
evolveEA; LEED® and Living Building Challenge Management, Pittsburgh
H.F. Lenz; Commissioning, Johnstown
Kolano Design; Interpretation, Pittsburgh
Massaro Corporation; Pre-Construction Management, Pittsburgh
Pitchford Diversified; Enhanced Commissioning, Butler, Pennsylvania
7group, LLC; Integrated Design Facilitation, Energy Modeling, Daylighting Analysis and Materials Consulting, Kutztown, Pennsylvania
Sundrive; Water Treatment, Ottsville, Pennsylvania
Other Organizations
Subcontractors
Allegheny Installations; Polished Concrete, Pittsburgh
Allied Waste; Waste Services, Pittsburgh
Aquascape; Stormwater Management and Harvesting, Pittsburgh
Automated Logic; Building Controls, Pittsburgh
Berner International; Air Handling Unit, New Castle, Pennsylvania
Brayman Construction; Rock Anchors, Pittsburgh
Tom Brown Contracting; Waterproofing, Pittsburgh
Burns and Scalo; Roofing, Pittsburgh
Compu-Site; Access Flooring, Pittsburgh
Continental Building Systems; Furniture, Pittsburgh
S.A. Comunale; Fire Protection, Pittsburgh
Definis Mechanical Contractors; Site Plumbing, Pennsylvania
D-M Products; Glass and Glazing, Bethel Park, Pennsylvania
Dubin and Company; Specialties, Pittsburgh
Energy Independent Solutions; PV Array, Pittsburgh
Engineered Products; Structural Steel and Miscellaneous Metals, Pittsburgh Area
Epiphany Solar Water Systems; Storm Water Management and Harvesting, Pittsburgh Area
A. Folino Construction; Asphalt Paving, Pittsburgh
Franco; Masonry, Pittsburgh Area
Franklin Interiors; Furniture, Pittsburgh
Giffin Interior & Fixture; Interior Architectural Woodwork, Bridgeville, Pennsylvania
Glass House Renovation Services; Thermal Energy Shade, Kentucky
Hanlon Electric; Electrical, Pittsburgh
Ionadi Corporation; Concrete, Pittsburgh
Lutron Electronics; Building Controls, Pittsburgh
Marshall Elevator; Hydraulic Elevators, Pittsburgh
Massaro Industries; Ceramic Tile, Pittsburgh
Mats Inc.; Entrance Mats and Grating, Massachusetts
A.G. Mauro; Doors, Frames and Hardware, Pittsburgh
Mele Landscaping Contractors; Landscaping, Pittsburgh
Mendel Steel; Steel and Site Handrail, Bethel Park
Noralco Corporation; Sitework and Excavation, Pittsburgh
TD Patrinos Painting & Contracting; Interiors, Exterior Envelope, and Wood Boardwalk, Pittsburgh
PPG Industries; Glass and Glazing, Pittsburgh
Saints Painting; Painting, Finleyville, Pennsylvania
J.C. Schultz Interiors; Furniture Installation, Pittsburgh
SSM Industries; HVAC and Plumbing, Pittsburgh
Spectra Contract Flooring; Carpet and Resilient Flooring, Pittsburgh
Tri-State Lockers & Shelving; HDPE Lockers, Pittsburgh
Western Pennsylvania Geothermal Heating and Cooling; Geothermal Wells, Saxonburg, Pennsylvania
Videos
"The Evolving Green Story"
---
"The Greening of Phipps: A Conversation with the Executive Director"
---
"Integrative Design at Phipps: A Case Study"
---
"Phipps Embraces the Living Building Challenge"
---
"The BETA Project at Phipps: Biophilia Enhanced Through Art"
Photos © Denmarsh Photography, Inc.; Paul g. Wiegman; Renee Rosensteel; Joshua Franzos; Lofty Views