Green Building Toolkit Series

Sharing What We've Learned
Phipps Conservatory and Botanical Gardens is a recognized global leader in sustainability and green building design. Phipps has met the world's most rigorous standards in green buildings, providing significant knowledge and expertise in sustainable design, construction and maintenance. The Green Building Toolkit Series shares Phipps' development process, insights and impact, providing best practices for others. In this series of profiles, you'll learn how Phipps achieved various certifications and overcame challenges with best practices that can be applied to residential, community and commercial locations for healthier and more sustainable environments.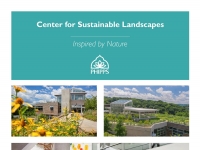 Center for Sustainable Landscapes: Inspired by Nature
This introductory case study document uses the Center for Sustainable Landscapes as a lens to provide a brief overview of Living Building Challenge, LEED®, SITES™ and WELL™ standards.
Achieving the WELL Building Standard
A model for sustainable design and operations, the CSL is the first institution worldwide to achieve WELL Platinum Pilot Certification – the highest rating awarded by the International WELL Building Institute (IWBI).
Learn more about Phipps' commitment to green healthy spaces here, and visit our Center for Sustainable Landscapes page for case studies by other institutions.
Photos © Michael Tessler; Denmarsh Photography, Inc.