Phipps Conservatory Summer Flower Show: Monet in Bloom Opens Sat., May 7
For Immediate Release: Mon., April 25
Contact: Joe Reed | Director of Marketing and Communications
412-622-6915, ext. 3801 | jreed@phipps.conservatory.org
Phipps Conservatory Summer Flower Show: Monet in Bloom Opens Sat., May 7
Butterfly Forest Also Returning Starting Sat., May 14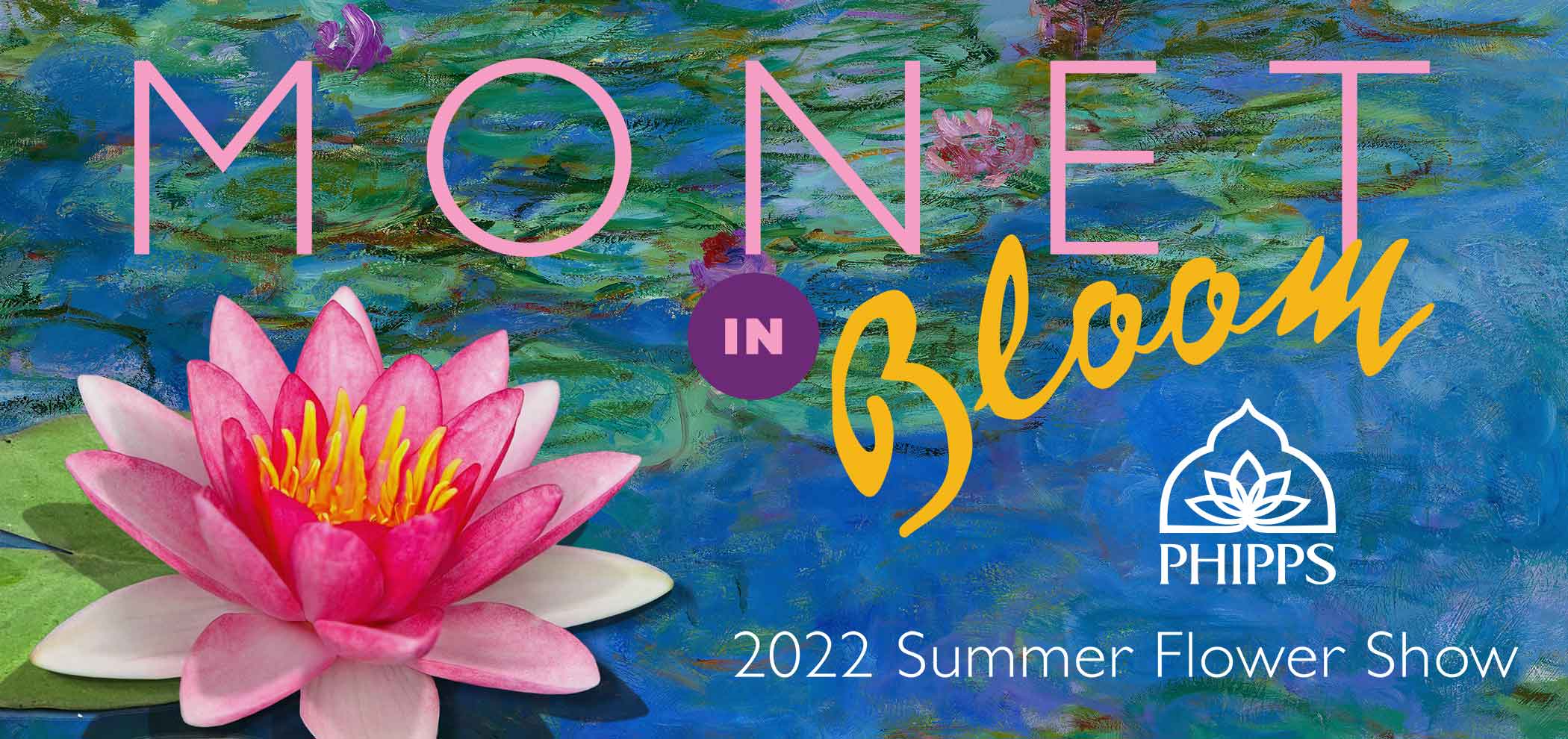 Pittsburgh, PA –Starting Sat., May 7, Phipps Conservatory and Botanical Gardens is presenting this year's Summer Flower Show: Monet in Bloom, inspired by the works of impressionist painter Claude Monet. In this spectacular new exhibit — which follows in the footsteps of Phipps' blockbuster Van Gogh in Bloom show from 2019 — the gardens of Phipps will bring three-dimensional life to Monet's breathtaking scenes of delicate flora and dreamlike design. Vivid botanical displays will place you directly into stunning scenes from the artist's own canvasses – beloved paintings that have stood the test of time for 100 years.

Exhibit Features
Pass under recreations of gorgeous arbors from Monet's own garden in Giverny, France, painted in Monet's signature green and covered with annual vines and garden bed mixes as you make your way to the Conservatory entrance
View "Water Lilies" recreated with lobelia, begonias and other flowers in a giant vertical mural in our Welcome Center
Step through an oversized picture frame to meet "The Woman in Green" rendered as a green and black striped topiary against a black foliage backdrop in our Palm Court
Stop at "The Saint-Lazare Station" as our Sunken Garden is reimagined to hold a massive train with bugleweed tracks and steam billows made from hanging baskets of dusty miller and verbena
See Monet's "Studio Boat" as it floats in our Victoria Room pond surrounded by beds of impatiens, begonias and other colorful blooms
Recreate "The Artist's Garden at Vétheuil" by posing for a photo by a vintage wagon between tall plantings of canna, everlastings and sunflowers
Explore the artist's garden at Giverny and meet the "Woman with a Parasol" as arbors arch skyward and Monet-green benches invite relaxation in our South Conservatory
Float through the Serpentine Room amid ponds of "Water Lilies", a Japanese footbridge and purple dahlias, and a special surprise at the end of the path.
Just in time for opening of Monet in Bloom and Mother's Day weekend, the 86th annual May Market is taking place! May 6 – 7, stock up on unique plants, gardening accessories, handmade jewelry, lawn décor and more. May Market is free and open to the public; for hours and a complete list of participating vendors, visit phipps.conservatory.org/MayMarket.
Plus, Sat., May 14 marks the opening of Phipps' Butterfly Forest for the first time in 3 years! This experience will awe visitors with an up-close look at some of nature's most prized pollinators alongside the blossoming flowers that feed them. Butterfly Forest runs through Mon., Sept. 5 and is included with cost of admission. Learn more at phipps.conservatory.org/Butterfly.
Summer Flower Show: Monet in Bloom was designed by Associate Director of Exhibits Jordyn Melino. The show runs from May 7 – Sept. 25. Phipps is open from 9:30 a.m. – 5 p.m. daily and until 10 p.m. Fridays. For more information and to reserve tickets, visit phipps.conservatory.org/Monet.
###
About Phipps: Founded in 1893, Phipps Conservatory and Botanical Gardens in Pittsburgh, PA is a globally recognized green leader with a mission to inspire and educate all with the beauty and importance of plants; to advance sustainability and promote human and environmental well-being through action and research; and to celebrate its historic glasshouse. Encompassing 15 acres including a historic 14-room glasshouse, 23 distinct indoor and outdoor gardens and industry-leading sustainable architecture and operations, Phipps attracts more than half a million visitors annually from around the world. Learn more at phipps.conservatory.org.
Watch TEDx: What We Can Learn From an Old Glasshouse: A look at the evolving way we connect people to nature at Phipps, demonstrate how human and environmental health are inextricably connected, and show that to age gracefully, we must continually reinvent ourselves to evolve with the rest of the world.