Phipps Proposes Alternate Use for Pittsburgh Irish Centre
Phipps Conservatory and Botanical Gardens has advanced an alternate proposal for use of the Irish Centre site in Squirrel Hill in the event that the Pittsburgh Zoning Board of Adjustment rejects plans for a condominium complex in the space. Phipps submitted a letter to the Zoning Board announcing this proposal on Fri., Sept. 8.
Click here to download Phipps' signed letter to Pittsburgh Zoning Board of Adjustment.
The people of this region have a relationship with Phipps that goes back 130 years, and our intention behind this proposal is to work together with them to develop a space from which community access to valuable resources, tools and education can be elevated to new heights. Phipps seeks to showcase new paths forward to living with human and environmental health in mind and the additional space afforded by the Irish Centre would allow us to expand those efforts, reaching more people both within the local neighborhood and surrounding communities than ever before.
---
Phipps Anticipated Uses for the Irish Centre
For several years, Phipps has been seeking property in the City of Pittsburgh to serve as a home site for an expanded Homegrown program, a community greening program to create green spaces in underserved areas, and other important uses. The Irish Centre, with its proximity to Phipps Conservatory, major roads and Frick Park would make this site an excellent location for our planned Community Outreach Center. Phipps is interested in purchasing the property if we can reach a mutually agreed upon price with the Irish Centre.
Our intent would be to use the site for the following programs:
Expanding Homegrown
Homegrown is Phipps' flagship program for community benefit and engagement. Through this program, Phipps installs raised bed vegetable gardens in people's backyards in food desert areas of the City. These are places where residents do not have access to fresh healthy food. Since its inception, the program has installed nearly 400 gardens in Homewood, Larimar, and Hazelwood. This Irish Centre property is ideally located for this program and will allow us to expand the program to more neighborhoods in the City. See attached addendum.
Community Greening Throughout the City
Pittsburgh is a Biophilic City and Phipps partnered with the City to achieve that recognition. As such, one of its initiatives is to make sure that all residents have access to safe green space near where they live. This program which Phipps will launch next year will allow Phipps to work with local residents to establish green spaces within their neighborhoods. The Irish Centre site would be an excellent staging area for this program.
Needed Nursery Space
Phipps needs additional nursery space for growing plants for flower shows at Phipps and for the neighborhood greening program that it is starting. The Irish Centre site would make for an excellent and convenient site for Phipps to establish a nursery. As well as an additional space for creating props for the Flower Shows at Phipps.
Enhancement of the Building and Site
Even though the Irish Centre is not considered a historic building, it does have a lot of significance to people in our community of Irish decent. It is our intent that the existing building will not be demolished. Phipps has a track record in developing green buildings – and the greenest building is the one that already exists. Phipps restored an old, dilapidated cinder block public works building on its lower campus into one of the greenest buildings in the world that is now Living Building Challenge, LEED Platinum, and WELL Platinum certified. We would expect to do the same thing with the Irish Centre building. The site would also be landscaped to enhance the general appearance of the building.
Exhibit Staging Center - Adaptive Re-Use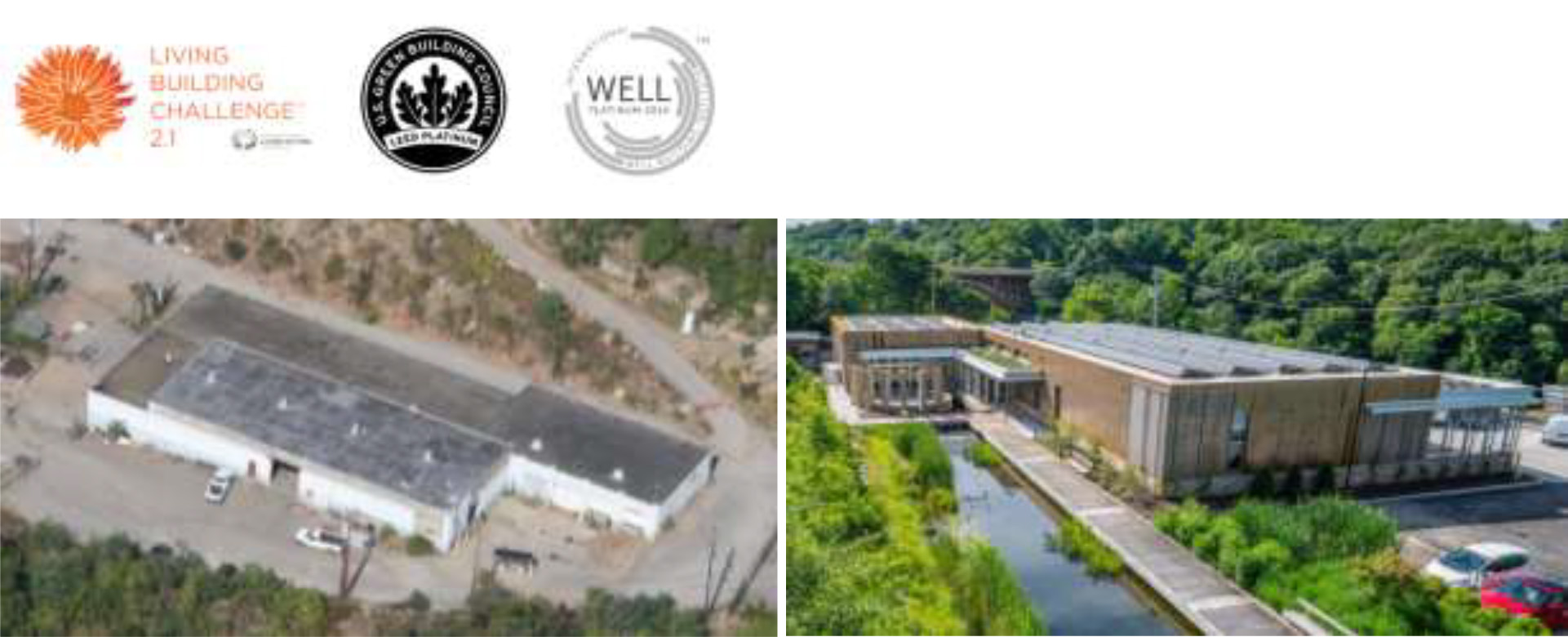 Partnerships
Phipps has a track record of working in City parks and with the community at the Conservatory in Schenley Park and Garden Center in Mellon Park. Following is the current list of community partners from this past year. At the Irish Centre site, we would expect that we will work with the local community around the Irish Centre as well as organizations like Upstream Pittsburgh and the Parks Conservancy regarding events at Nine Mile Run and Frick Park.
• Allegheny County Conservation District
• Allegheny Highlands Botanical Art Society
• Allegheny Land Trust
• Altruism in Medicine Institute
• American Institute of Floral Designers (AIFD)
• American Society of Landscape Architects (ASLA)
• Audubon Center for Native Plants
• Bob O'Connor Golf Course
• Carnegie Library – Main and Hazelwood Branches
• Carnegie Museum of Natural History
• Center of Life
• Cherry Valley Organics
• Duquesne University
• Environmental Charter School
• Franklin Park Conservatory
• Friends of Mellon Park
• Grow Pittsburgh
• Hazelwood Initiative
• Homewood Brushton YMCA
• Japan America Society of Pennsylvania
• Lewis Ginter Botanical Garden
• Missouri Botanic Garden
• Northeast Organic Farming Association
• Oasis Farm and Fishery
• Orchid Society of Western Pennsylvania
• Operation Better Block
• North American Japanese Garden Association
• PA Resources Council
• PASA
• Penn State Extension
• Pitt Geology Department
• Pittsburgh Botanic Garden
• Pittsburgh Center for Arts and Media
• Pittsburgh Parks Conservancy
• Repair the World
• The Hunt Institute of Botanical Documentation
• TRIB Total Media
• University of Pittsburgh Medical School
• University of Pittsburgh School of Public Health
• University of Pittsburgh, Geology
• University of Pittsburgh, Grounds Maintenance
• UPMC
• Upstream Pittsburgh
• Vibrant Pittsburgh
• Western PA Mushroom Club
• Western Pa Unit of the Herb Society of America
• Women for a Healthy Environment
• World Bank
---
More Information