Compassion, Nature and Regeneration: A Meditation, Way of Life and Discussion
Thurs., Oct. 12; 9 – 11 a.m.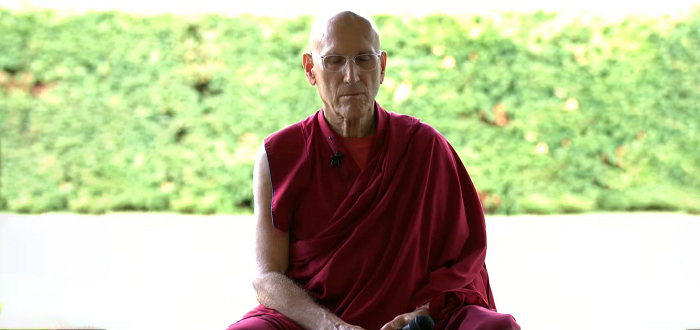 Discover how to channel your compassion for self and others into a commitment to care for nature, our home, through regenerative impact trained by a guided meditation and presentation.
On Thurs., Oct. 12 from 9 – 11 a.m., guests are invited to participate in "Compassion, Nature and Regeneration: A Meditation, Way of Life and Discussion." The program includes a guided meditation led by American physician and Buddhist monk, and personal physician to the Dalai Lama, Barry Kerzin and a joint presentation with Phipps' President and CEO Richard Piacentini. Participants are invited to support living beings and their environments into regenerative impact for self, community and the world. Compassion is a critical ingredient for survival. A question-and-answer session will follow the discussion. This event can be attended either virtually or in person.
Guests are encouraged to contribute a suggested donation of $20 to attend in person and $10 to attend remotely. All proceeds will go to the Altruism in Medicine Institute, whose home is now Pittsburgh, and aims to transform medical education to incorporate curricula of self-compassion, compassion for others, mindfulness and resilience as essential as anatomy, physiology and pharmacology. These same principles are important for everyone to find meaning and joy in their lives.
About the Speakers
Dr. Barry Kerzin is a medical doctor, Buddhist monk, adjunct professor at the University of Pittsburgh, adjunct professor at Hong Kong University and honorary professor at the Mongolian National University of Medical Sciences. He is the founder and CEO of the Altruism in Medicine Institute (AIMI) and founder and chairman of the Human Values Institute (HVI) in Japan. With AIMI in 2022 he has created a compassion mindfulness app – AIMIcare -- to reduce burnout among healthcare professionals. For 34 years he has been providing free medical care to the poor up to high lamas including HH Dalai Lama. Barry has completed a 3-year meditation retreat. His brain has been studied at Princeton University and the University of Wisconsin, Madison. He has given four TEDx talks and authored four books.
Richard Piacentini is the president and CEO of Phipps Conservatory and Botanical Gardens. Since 1994, he has transformed the Pittsburgh organization into a green leader through such projects as the Center for Sustainable Landscapes (the only building in the world to meet Living Building Challenge, LEED Platinum, WELL Platinum (first), Zero-Energy, SITES Platinum (first), BREEAM Outstanding (first in U.S.) and Fitwel 3 Stars), as well as two other Zero-Energy buildings. The sustainability efforts Piacentini initiated at Phipps are based on regenerative thinking and recognizing the vital connections between human and environmental health. He is an Advisory Board Member of International Living Future Institute (ILFI); a committee Member of Mission & Community Needs for Magee-Womens Hospital, Biophilic Design Initiative, and Biophilic Cities Network; and a past board chair of ILFI and the American Public Gardens Association (APGA). He has received leadership awards from ILFI, APGA and U.S. Green Building Council.
More Events You'll Enjoy
Opens Sat., Oct. 7

Join us to explore whimsical, mini recreations of the four seasons as experienced in Pennsylvania.

Now Open

Say aloha to the spectacular intertwining of nature and culture of Hawai'i, one of the most ecologically diverse places on Earth, in our immersive new Tropical Forest Conservatory exhibit.

Thurs., Nov. 30; 6:30 – 7:30 p.m.

Join us for an exclusive virtual member event where you can create a uniquely beautiful centerpiece!