Fri., Dec. 1; 6 and 8 p.m.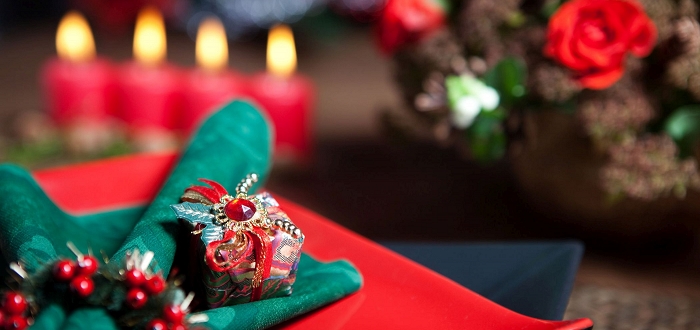 The chefs of our award-winning Café Phipps present an unforgettable holiday buffet dinner under glass.
NOTE: Seating is now sold out, but you may be placed on our waitlist by calling 412/651-5281
For one very special evening, join us for a delicious holiday buffet, expertly prepared by chefs at Café Phipps — our award-winning 3-star Green Restaurant Certified® eatery focusing on food that's good for the planet and for you. Admission to our Winter Flower Show and Light Garden: Holiday Magic! is included in the price!
Menu Selections
• Farro and roasted root vegetable salad
• Mixed greens with blood orange vinaigrette
• Waldorf salad
• Roast turkey breast with cranberry relish
• Braised beef brisket
• Baked ham
• Baked salmon with an orange and fennel relish
• Quinoa pilaf stuffed portabella mushrooms
• Smashed organic potatoes
• Sweet potato au gratin
• Roasted Brussels sprouts
• Roasted green beans
• Acorn squash with mascarpone cheese and pistachios
• Macaroni and cheese
• Dessert station
Items subject to change
Our family-friendly dinner is served in Special Events Hall against the breathtaking backdrop of Tropical Forest Congo. Seating is available at 6 and 8 p.m.
Holiday Dinner admission is $58 for adults and $35 for children under 12. Only one credit card per party will be accepted for payment.
Payment information must be given at the time of registration; make your R.S.V.P. by calling 412/651-5281.
Cancellations must be made before Mon., Nov. 27 in order to receive a refund.
Select photos © Paul g. Wiegman
More Holiday Fun
Open Now
Winter Light Garden Open Evenings 5 – 11 P.M.*

The most magical show of the year is here! Join us to celebrate the spirit of the season with glowing evergreens, festive poinsettias, whimsical props and our stunning outdoor Winter Light Garden.