Sept. 14 – 21; See full schedule for details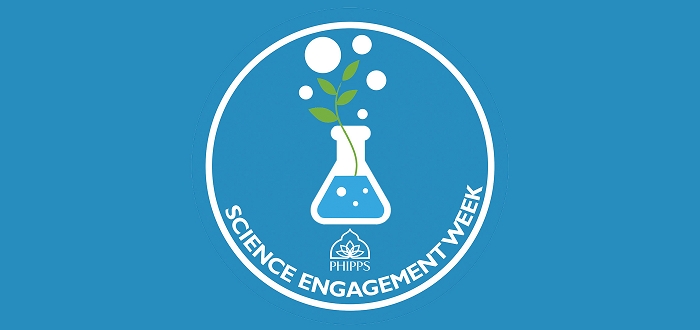 Join us for special activities throughout Science Engagement week highlighting the world of science both broadly and here at Phipps!
Daily, Sept. 14 - 21:
Science Scavenger Hunt
Guests can embark on a science-themed scavenger hunt in the Center for Sustainable Landscapes, learning about the scientists at Phipps and their research along the way!
Sat., Sept. 14:
Peek Behind the Petals | 9:45 – 10:30 a.m. | R.S.V.P. required
Meet our Botany in Action fellows and learn about their global research in plant conservation, ethnobotany and sustainable landscapes. This year's dynamic group of fellows have been conducting original research in locales ranging from Western Pennsylvania to the Pacific islands and Carpathian mountains, and they are excited to bring their findings back to Phipps.The Botany in Action fellows will also be tabling in Tropical Forest Cuba after this event!
Mon., Sept. 16:
Make-a-Craft Monday | 10:30 a.m. - noon
Guests will enjoy creating a bird-themed craft as they learn about the different equipment ornithologists use to study and track birds.
Wed., Sept. 18:
Story Time Wednesday | 10:30 a.m. and 1 p.m.
Learn about wildlife as you read a squirrel-themed story and discuss wildlife biology! Motion-activated cameras used by wildlife biologists will be at the station so guests can learn about how scientists study animals remotely or in more than one place.
Fri., Sept. 20:
Pot-a-Plant Friday | 10:30 a.m. - noon
Learn more about the work of ecologists and botanists while potting a plant of your own! Observe other plants at the station and around the Conservatory using your new knowledge!
Environmental Film Series: Science Fair | 7 – 9 p.m. | R.S.V.P. required
Join us in Botany Hall Auditorium for a screening of Science Fair, a film that follows nine high school students from around the globe as they make their journey to compete at The International Science and Engineering Fair.
Sat., Sept. 21:
Meet a Scientist | 1:30 – 3:30 p.m.
Speak with the Science Communication Fellows and learn more about the research they are conducting.
Select photos © Paul g. Wiegman, Phil Johnson II
More Events You'll Enjoy
Sun., Nov. 3; 10 a.m. – 4 p.m.

During the fourth annual One Health Day, Phipps will offer walk-up activities for all ages that explore the important connections between human, animal and environmental health.

Sat., Oct. 26; 9 a.m. – 4 p.m.

The annual Native Plant and Sustainability Conference brings together national experts for an engaging one-day forum on plants, landscapes and our role as environmental stewards.

Free with admission Saturdays and Sundays; 1:30 p.m. except where noted

Join us each Saturday and Sunday in the Tropical Forest Conservatory for interactive demonstrations, activities and speakers that will deepen your connections to the beauty and wonders of nature, all free with admission! No advance reservations are needed.