Week 5: Icy Watermelon/Sandía Fría by Mary Sue Galindo, illustrations by Pauline Rodriquez Howard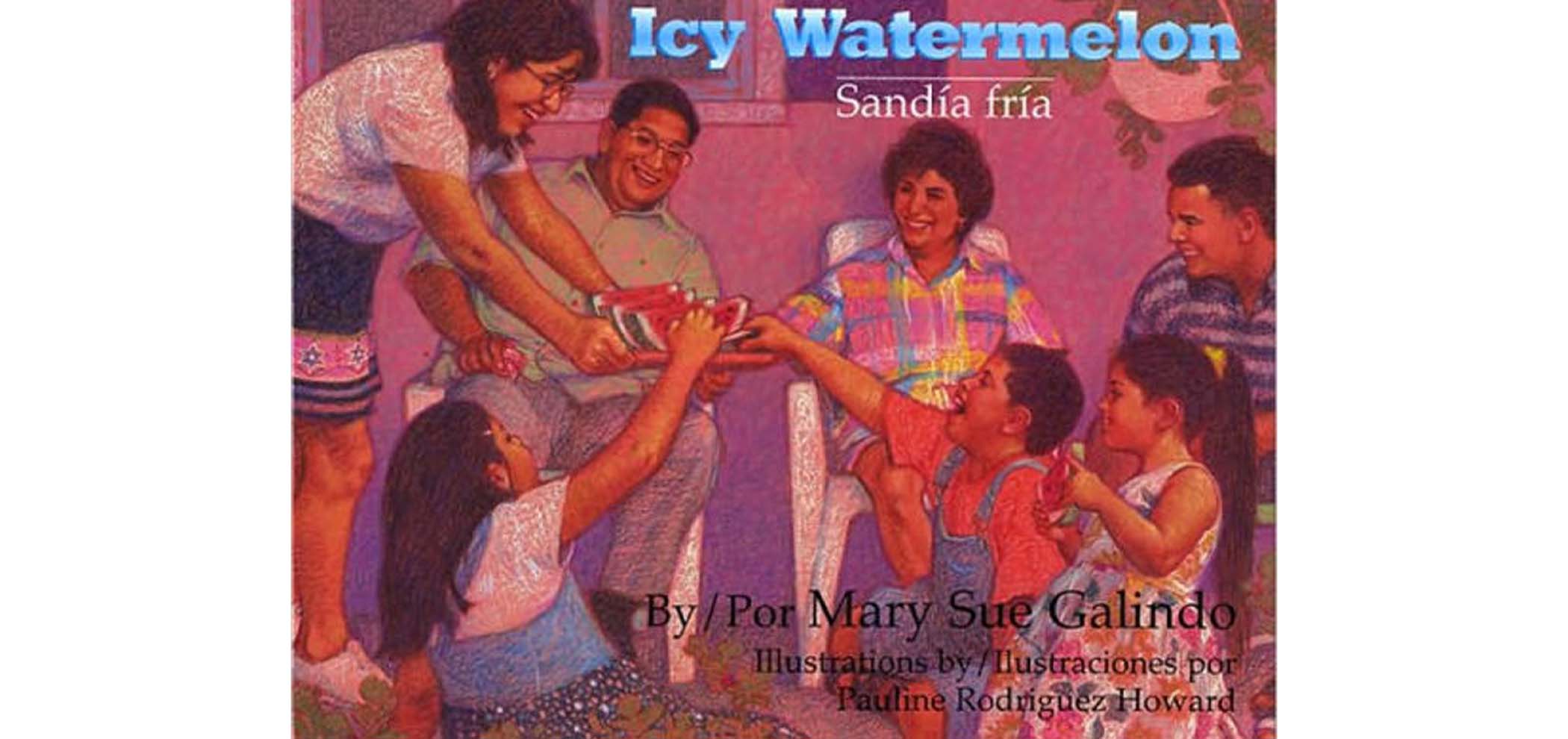 This week's book is Icy Watermelon/Sandía Fría by Mary Sue Galindo, illustrations by Pauline Rodriquez Howard. Join us for a virtual discussion about this book on Tues., Oct. 12 from 10 – 10:30 a.m.
---
Reading Corner
Barrio: neighborhood in Spanish
​Abuelo/Abuela: grandfather/grandmother in Spanish
Sandía Fría: icy watermelon in Spanish
Harvest: to collect what has been planted and grown in the ground
Juicy: full of juice/liquid
Do you like watermelon? Why or why not?
What makes something icy? When do you eat something icy? How does it make you feel?
What food reminds you of home?
Eat the Rainbow Matching Game
Download an Eat the Rainbow/Come Un Acroiris matching game worksheet to practice your Spanish and fruit identification skills.
Download the matching game worksheet
---
Make Your Own Watermelon (Sandía) Agua Fresca
Agua fresca is a hydrating and delicious fruit drink popular throughout Mexico. Try out this watermelon flavored Agua Fresca recipe below!
Watermelon Agua Fresca
Makes 6 servings
Ingredients:
5 cups seedless watermlon pieces
⅛ cup freshly squeezed lime juice 
¼ cup sugar
pinch of sea salt (optional for extra flavor)
4 cups cold water
ice cubes
Directions:
Slice watermelon and remove rinds. Place in the blender then pour in the lime juice, add the sugar and blend until the watermelon is broken down. Add the pinch of salt, if using, and blend until combined.
Pour into a large pitcher with ice cubes. Pour in the water and stir. Taste and if necessary adjust either the sugar or water. Serve in glass with plenty of ice cubes and enjoy!
Tip: Some people like to strain the mix into hte pitcher, feel free to do so if desired!
Recipe Inspiration: Nancy Lopez-McHugh & MexicanMadeMeatless.com
Enjoyed today's story? Check out some of the books below for similar tales.
Green Is a Chile Pepper: A Book of Colors by Roseanne Greenfield Thong, illustrated by John Parra
Arturo and the Bienvenido Feast by Anne Broyles, illustrated by KE Lewis
Growing Up With Tamales / Los tamales de Ana by Gwendoyn Zepeda, illustrations by April Ward
These books can be found at your local library. Visit the link below to learn more about how to check them out. 
Sponsored by

Let's Move Pittsburgh, a collaborative program of Phipps Conservatory and Botanical Gardens, provides Southwestern Pennsylvania's children and their caregivers with the knowledge, tools and support needed to make nutritious food choices and lead active lifestyles.