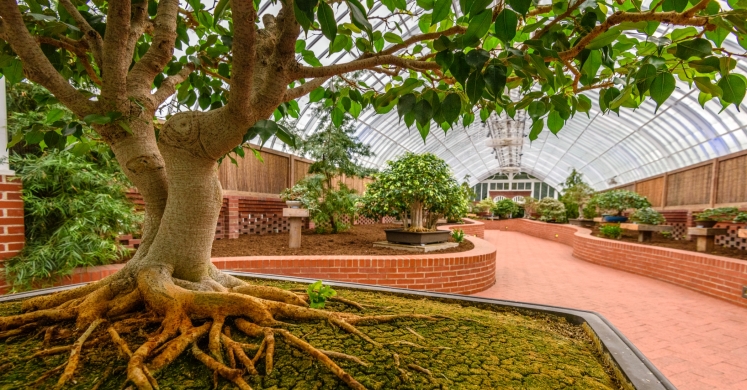 This Week at Phipps: Jan. 23 – 29
There's always something new to see and do at Phipps! This weekly blog post provides a run-down of the latest happenings so you can plan your visit. Events listed below require no advance registration unless noted otherwise.
Open Daily:
Orchid and Tropical Bonsai Show
Escape to tropical paradise with the spectacular sight of vibrant and gorgeously varied orchids, and see unique intricately cultivated selections from our permanent collection of tropical bonsai.
Garden Railroad: 200 Years of Pittsburgh
For Pittsburgh's bicentennial, ten miniature railroad snapshots of different time periods in city history are brought to life with interactive stations that adults and children will delight in. Visitors can turn a hand crank to elevate the Duquesne Incline or push a button to send Three Rivers Stadium into raucous applause and illumination as the Buccos play ball.
Make the Switch at Phipps! Green Power Drive
Switch your home electricity to 100% green power while visiting our Tropical Forest Conservatory and you can receive free Phipps membership!
Learning for a Greener Future: A Youth Art Exhibition
In the CSL Green Gallery, enjoy artistic photos of Phipps taken by high school students from the Learning for a Greener Future internship program.
The Art of Bonsai: Photographs
In the Welcome Center Gallery, the traditional styles of bonsai are exhibited and explained through stark, highly detailed photography.
Tropical Forest Congo
Explore some of Africa's lushest landscapes and see botanical specimens never before showcased at Phipps.
Mon., Jan. 23:
Make-a-Craft Mondays | 10:30 a.m. – noon
Create your very own Phipps masterpiece! Every Monday, children are invited to engage in nature-inspired arts-and-crafts projects using recyclable materials.
Tues., Jan. 24:
ABC Nature and Me: T is for Trees | 9:30 – 10:30 a.m. | R.S.V.P. required
In each installment of the ABC Nature and Me series, kids ages 3 – 6 will connect with nature in the greenest classroom in the 'Burgh, learn the sounds each letter makes and practice handwriting.
Wed., Jan. 25:
Story Time Wednesdays | 10:30 a.m. and 1 p.m.
Kids will love listening to our storytellers weave tales about gardens, fruits, vegetables, animals and other fun topics.
Thurs., Jan. 26:
Fri., Jan. 27:
Sat., Jan. 28:
Sun., Jan. 29:
Bonsai | 1:30 p.m.
Receive expert advice on training bonsai.
Photos © Paul g. Wiegman