Wish You Were Here: A Youth Art Exhibition
Now Open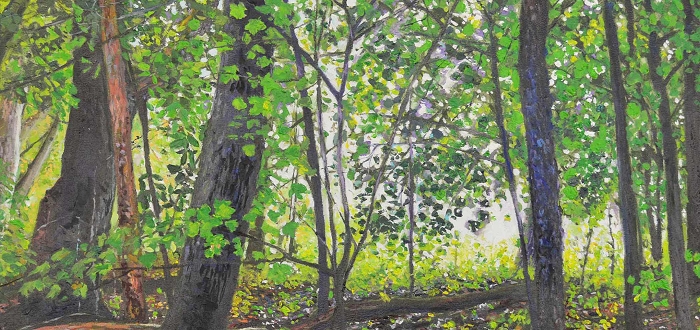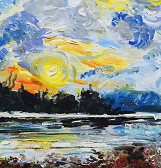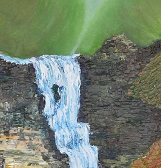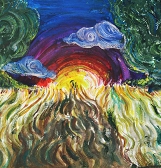 In the CSL Green Gallery, enjoy a series of paintings by participating Fairchild Challenge high school students.
This exhibit features artwork made by high school students participating in the Phipps Fairchild Challenge. In this first challenge of the 2019 – 2020 challenge year, students were asked to take inspiration from Phipps' 2019 Summer Flower Show, Van Gogh in Bloom. Van Gogh often depicted breathtaking natural scenes in his paintings, and students were asked to do the same, using their favorite nature spots as the subjects and Van Gogh's style of bold brush strokes and contrasting colors if they wished. Van Gogh also wrote many letters to his brother, Theo van Gogh, vividly describing the landscapes he was painting. The students followed suit, and paired each painting with a "wish you were here" style letter to a friend describing the scene they chose.
The mission of the Fairchild Challenge is to foster interest in the environment by encouraging students to appreciate the beauty and value of nature; develop critical-thinking skills; understand the need for conservation and biodiversity; tap community resources; become actively engaged citizens; and recognize that individuals do indeed make a difference.
Featured Artists
Isaac Hess and Emily Morrissey | First Place
Westinghouse Arts Academy Charter School
Lily Jarosz, Emily Jumba and Tegan Lochner | Second Place
Norwin High School
Aliza Zelina | Third Place
Shaler Area High School
Caden Ferita and Benjamin Hommel | Special Merit
Westinghouse Arts Academy Charter School
A.G. Miles-Flurry | Special Merit
West Mifflin Area High School
Parastoo Aramesh | Special Merit
North Allegheny Senior High School
MacKenzie Cegelski, Madison Kapisak and Jenna Mervosh
Elizabeth Forward High School
Mirae Choe, Venice Lin and Karis Lu
North Allegheny Intermediate High School
Maya Weaver
Oakland Catholic High School
Kate Malley
Penn-Trafford High School
Delena Steimer
Penn-Trafford High School
Alisha Aboosally, Josie Walter and Derek Wessel
Seneca Valley High School
Caitlin Fedorek
Shaler Area High School
This program is made possible by the generous support of the Grable Foundation and the Pennsylvania Education Improvement Tax Credit Program. The Fairchild Challenge was designed and initiated by Fairchild Tropical Botanic Garden in Coral Gables, Florida. Phipps is proud to serve as a satellite site for conservation-themed activities that engage youth across the globe.
Images © Aliza Zelina, Isaac Hess, Emily Morrissey, Lily Jarosz, Emily Jumba, Tegan Lochner, Caden Ferita, Benjamin Hommel, Caitlin Fedorek, Kate Malley
More Events You'll Enjoy
FRI., FEB. 21; 7 – 9 P.M.; BOTANY HALL AUDITORIUM

This exciting monthly event invites community members to come together to view environmental films and documentaries and participate in a post-screening discussion.

Save 50% on Admission Sundays, Feb. 2, 9, 16 and 23

Escape to a warm tropical paradise and save! Take 50% off admission every Sunday in February when you wear a tropical-inspired shirt to Phipps.

Fri., Feb. 28; 7 p.m.

Enjoy an inspiring, delightful gourmet meal that takes a fresh look at foods too good to waste. Each plate of this abundant four-course meal takes an ingredient that is often overlooked or discarded and transforms it into an innovative, flavorful dish.