Phipps Conservatory's Fall Flower Show: Happy Troll-O-Ween Opens Sat., Oct. 9
For Immediate Release: Mon., Sept. 27
Contact: Joe Reed | Director of Marketing and Communications
412-622-6915, ext. 3801 | jreed@phipps.conservatory.org
Phipps Conservatory's Fall Flower Show: Happy Troll-O-Ween Opens Sat., Oct. 9
Celebrate Spooky Season with the Longest Running Chrysanthemum Show in the Nation and the Return of Garden Railroad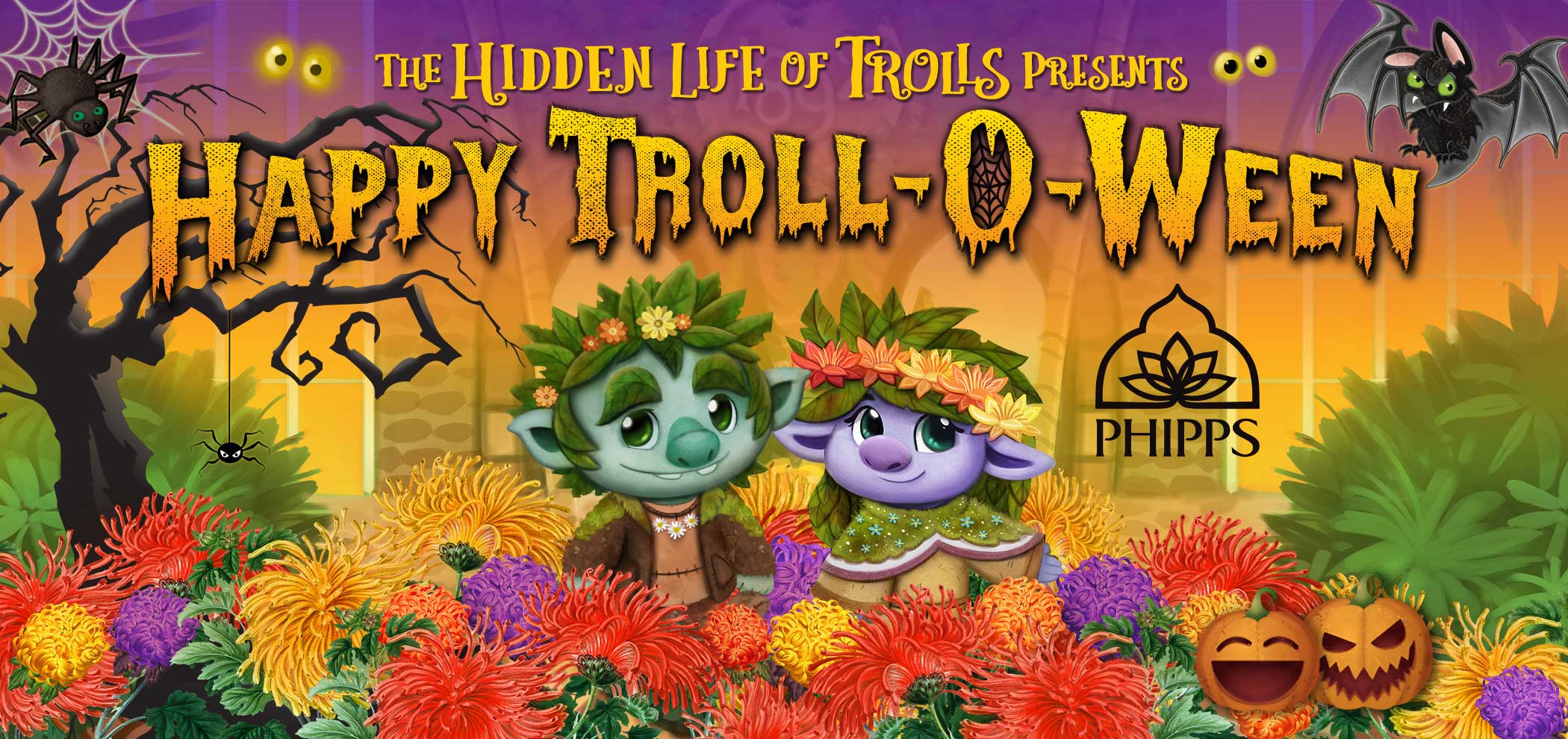 Pittsburgh, PA – Starting Sat., Oct., 9 Phipps Conservatory and Botanical Gardens invites guests to join in on a celebration of all things spooky and kooky for this year's Fall Flower Show: Happy Troll-O-Ween! Phipps' one-of-a-kind trolls take their final bow at the historic glasshouse by throwing a fantastic boo-tanical bash surrounded by a sea of chrysanthemums. Along with spooky displays of mischievous trolls, guests can expect a stunning array of chrysanthemums in a vibrant kaleidoscope of fall colors.
This year's show features the following frightful and delightful displays:
Delight at Fen and Ivy's new Halloween costumes and Leif's flickering jack-o-lantern as he looks over a sea of chrysanthemums in shades of red and orange with accents of dusty gray foliage.
Marvel at a 10-foot-tall gnarled tree with beautiful cascade mums instead of autumn leaves in a display that was inspired by the crooked windswept trees of Trollskogen (or "troll forest") in Sweden.
Admire Aegir the water troll's new fall look as his island-like head is decorated with an autumnal wreath made of fall leaves and pine cones, and the pond is filled with floating islands of deep red mums.
Witness a trio of trick-or-trollers dressed up in their Halloween best and asking Bjorn the grumpy troll for treats — and be sure to dodge any flying pumpkins that Bjorn hurls your way!
Solve new fall-themed riddles from Bridget the bridge troll and inspect her new spooky cave, where she has stashed troll treats.
Come dressed in your favorite Halloween costume as you join us in this celebration of all things spooky.
And more!
Since 1894, Phipps has been creating chrysanthemum-themed shows, making it the longest running Fall Flower show in the nation. Disbuds, spray and cascade chrysanthemums engulf the Conservatory in gorgeous hues, welcoming in the beginning of fall. Mark your calendars to see it — this frighteningly fun exhibit lasts only three weeks!

Plus, the opening of Fall Flower Show is always accompanied by the return of the beloved Garden Railroad exhibit. With a theme of Bridges and Tunnels, Phipps has created miniature depictions of iconic western Pennsylvania scenes filled with live plants and animated with touchless interactive stations. Residents of the City of Bridges will recognize and appreciate features including the Duquesne Incline, Liberty Tunnels, iconic yellow suspension bridge, wooden covered bridges and even the famous sinkhole bus!
Fall Flower Show: Happy Troll-O-Ween, designed by Phipps Plant Recorder and Procurer Laura Schoch, runs from Oct. 9 – 31. Hours are 9:30 a.m. – 5 p.m. Saturday through Thursday and 9:30 a.m. – 8 p.m. on Fridays. In order to ensure the safety of guests and staff, all member and nonmember tickets must be reserved in advance and masks are strongly recommended for all guests and required for unvaccinated guests ages 2 and up. To reserve your tickets, please visit phipps.conservatory.org/Tickets.
###
About Phipps: Founded in 1893, Phipps Conservatory and Botanical Gardens in Pittsburgh, PA is a globally recognized green leader with a mission to inspire and educate all with the beauty and importance of plants; to advance sustainability and promote human and environmental well-being through action and research; and to celebrate its historic glasshouse. Encompassing 15 acres including a historic 14-room glasshouse, 23 distinct indoor and outdoor gardens and industry-leading sustainable architecture and operations, Phipps attracts more than half a million visitors annually from around the world. Learn more at phipps.conservatory.org.
Watch TEDx: What We Can Learn From an Old Glasshouse: A look at the evolving way we connect people to nature at Phipps, demonstrate how human and environmental health are inextricably connected, and show that to age gracefully, we must continually reinvent ourselves to evolve with the rest of the world.