Three Rivers Urban Soil Symposium
Oct. 4 – 5; Thursday, 8:30 a.m. – 6 p.m. and Friday, 8:30 a.m. – 4 p.m.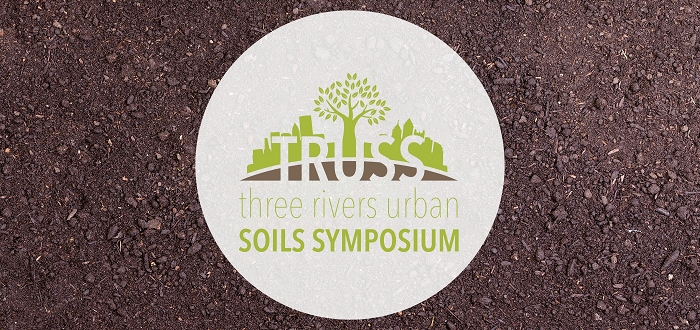 Join Phipps and other regional experts for a two-day exploration of urban soils and their relation to agriculture, stormwater management and climate.
Soil is the foundation of life, and without good soil, nothing thrives. Nowhere is this more evident than in urban areas, where industrialization has taken a degrading toll on soil quality. In Pittsburgh, as in many other post-industrial cities, understanding the limitations and potential of urban soils is essential to addressing many current and future challenges.
The inaugural Three Rivers Urban Soil Symposium (TRUSS) seeks to foster cooperation and education among all those with an interest in urban soils and their connections throughout our collective environment. A collective effort of the Pittsburgh Urban Soils Working Group, this two-day symposium will allow for a technical discussion of urban soils and their relationship to public health, urban agriculture, stormwater management and climate, as well as provide workshops and talks addressing community and residential concerns. Scheduled presenters include nationally recognized experts in addition to the research and efforts of regional academics, students and professionals.
By 2050, nearly 90% of America's population will reside in urbanized areas. As a result, urban soils are increasingly seen as an important focus of research and discussion among scientists, policy-makers, and communities. Soils support the urban ecosystem and civil infrastructure in ways that are both obvious and subtle, and increasingly relevant. These urban soils are, in turn, physically, biologically, and chemically altered by human activity. Join us in this important conversation of a critical issue for our region and beyond.
---
Registration
Registration for TRUSS is available in single-day ($25) and two-day ($45) options. Make your selection below:
---
Schedule
Schedule is tentative and subject to change
Day 1 | Thurs., Oct. 4
Urban Soils: Mapping, Contamination and Remediation
Soils and Urban Green Infrastructure
Poster Session and Reception
(open to day 1 and day 2 registrants)
Keynote: Health Impacts of Soil Contamination
Current and Historical Sources of Local Contamination
Soil Testing, Interpretation and Amendments
Composting Roundtable: How Do We Scale Up?
Restoring Degraded Urban Soils: A Case Study of Garfield Community Farms
Strategies for Community Focus Remediation Projects
---
Presented By
---
Sponsored in Part By
If you are interested in sponsorship, contact Sarah at edu@phipps.conservatory.org or 412/441-4442, ext. 3925.
More Events You'll Enjoy
OCT. 12 – 15 | CLAYCOMB CHALETS, CHAMPION, PA

Through this immersive retreat to the serene beauty of the southwestern Pennsylvania forests, you will emerge with new breakthrough levels of intuition and awakening.

Fri., Oct. 26; 4 – 8 p.m.

Bring costumed kids for a boo-tanical bash as we offer a host of fun family activities and healthy snacks, all free with Phipps admission!

Opens Sat., Oct. 13

All aboard! Join us on a treasured locomotive journey through the years at Phipps, with fun, interactive features at every stop.