Designing with Natives: An Evening Talk and Workshop with Larry Weaner
Sept. 28 – 29
Phipps and Pittsburgh Botanic Garden are pleased to present two days of learning with Larry Weaner, whose expertise in horticulture, environmental science, and the traditions of garden design has been profiled in national publications including The New York Times and The Wall Street Journal, and whose work has won accolades from the New England Wildflower Society, The Native Plant Center and The Garden Club of America. This special presentation will take place in two separate events over two days that span both Phipps and Pittsburgh Botanic Garden. Please note that each event has its own registration, as listed below.
---
Designing with Natives: A Visit to Larry Weaner's Suburban Property
Wed., Sept. 28; 6 – 8 p.m. at Phipps Conservatory and Botanical Gardens
Experiencing wild nature needn't be limited to the remotest regions of the world. It can occur in even the smallest backyard garden. Learn how noted landscape designer Larry Weaner interacts with and responds to ecological processes to create an ever-evolving wild yet still ornamental garden in his small property outside Philadelphia. Learn how this brains-over-brawn approach goes beyond simple editing of what occurs naturally and incorporates natural processes and plants' reproductive abilities to achieve common aesthetic and functional goals. And perhaps most importantly, discover how loosening the reins can bring a newfound mystery and discovery to even the smallest garden.

Admission is $23 for nonmembers and $20 for Phipps or Pittsburgh Botanic Garden members.
This course has been approved for 2.0 CEUs for landscape architects by LA CES, and 2 PCH and 2 SLC CEUs.
---
Advanced Ecological Design Workshop with Larry Weaner
Thurs., Sept. 29; 9 a.m. – 4:30 p.m. at Pittsburgh Botanic Garden
SOLD OUT
Demand for high performing, ecology-based landscapes is increasing faster than the availability of the specialized knowledge needed for practitioners to achieve them. This intensive course will be comprised of a full day-long workshop and meadow walk. It will provide concrete, real-world guidance for selecting and arranging native plants in the landscape (gardens and restoration projects), as well as provide attendees with the opportunity to observe and interpret these techniques through a field visit of Pittsburgh Botanic Garden's meadows and landscape.
Participants will receive login-protected access to an extensive digital manual that documents all aspects of the program, including plant selection criteria, plant recommendations, ecological process- based management specifications, and guidance for maximizing the aesthetic and experiential appeal these landscapes can provide.
This program is geared towards avid home gardeners and landscape professionals, including but not limited to master gardeners, landscape designers, landscape architects, and horticulturists.
Presented by Phipps Conservatory and Botanical Gardens and Pittsburgh Botanic Garden
Course Goals
By the end of the course, participants should be able to:
1. Observe and interpret ecological patterns of native plant communities by visiting a designed meadow.
2. Understand the ecological processes that are relevant to native landscape design including but not limited to ecological processes such as disturbance, succession, and competition, and plant proliferation strategies.
3. Understand how to arrange and select native plants to foster ecology-based landscapes that are aesthetically embraced by clients in a variety of landscape settings (gardens, restoration projects).
Course Schedule
Session 1 | 9 – 12:30 p.m.
Foundations of Ecology-Based Design | 3 hours (plus two 15-minute breaks)
Larry's opening presentation will examine the vegetative patterns and ecological processes of spontaneous plant communities. Each characteristic will be followed by an example of its direct incorporation into a landscape project. Processes described will include disturbance, competition, vegetative pattern, ecological succession, and ecological stability. Ecological plant traits will include habitat fidelity, growth pattern, spatial and temporal niche, and proliferation strategies.
Lunch | 12:30 – 1 p.m.
Session 2 | 1 – 2 p.m.
Field Visit: Observation and Exploration | 1 hour
Through an exploration of the Pittsburgh Botanic Garden landscape, this session will examine how the principles presented in the introductory presentation play out in various types of gardens and meadows.
Session 3 | 2:15 – 3:15 p.m.
Communicating the Vision and the Reality | 1 hour
Natural landscapes can range from "wall-to-wall wild" to "wild capsules" within a highly defined formal landscape. Determining your clients' comfort level within that spectrum early on will increase both design efficiency and enthusiasm for the built landscape. Accurately conveying the visual character, development time, and management requirements during the design process is also crucial. Finally, providing insight into the intellectual rationales for your decisions will convey to the client that "wild landscaping" is not a random assortment of native plants, but a carefully considered landscape endeavor.
Session 4 | 3:30 – 4:30 p.m.
The Artistic Overlay: Making "Wild" Legible | 1 hour
Ecological design need not be a bitter aesthetic pill that our clients must swallow to do the right thing. The order inherent in our wild native landscapes is widely considered beautiful. By translating that ecology-based order into the aesthetically based language of fine garden design, the results can be much more universally embraced by our clients. In addition, Larry will illustrate how highly gardenesque - and even formal - elements can gracefully interact and intermingle with wilder woodland, shrubland and meadow compositions. This approach can result in landscapes that are both ecologically productive and visually pleasing to clients with a variety of aesthetic preferences.
Admission for Phipps and Pittsburgh Botanic Garden members is $195 before Aug. 25, $225 Aug. 25 or later; admission for non-members is $215 before Aug 25, $245 Aug. 25 or later.
This course has been approved for 7.0 CEUs for landscape architects by LA CES, and 6 PCH and 6 SLC CEUs.
---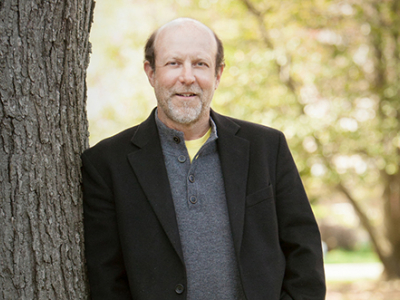 About the Presenter
Larry Weaner founded Larry Weaner Landscape Associates in 1982, combining expertise in horticulture, environmental science, and the traditions of garden design.
His design and restoration work spans more than twenty U.S. states the U.K., and has been profiled in national publications, including The New York Times, The Wall Street Journal, Landscape Architecture Magazine, Garden Design, American Gardener, Wildflower Magazine, ASLA's "The Dirt" blog, and the North American Native Plant Society's The Blazing Star.
Larry has received numerous awards for his work, including the Landscape Design Award from the New England Wildflower Society for use of native plants in "exceptional and distinctive landscape compositions" and the Lady Bird Johnson Environmental Award from The Native Plant Center. The Garden Club of America awarded him an honorary membership in 2015.
His approach to creating and managing native landscapes appeals to audiences nationwide. Larry has presented at the American Society of Landscape Architects (ASLA) annual and state chapter meetings, Association of Professional Landscape Designers (APLD) events, Cultural Landscape Foundation tours, and the Garden Writers Association National Conference. He has also spoken at the New York Botanical Garden, the Lady Bird Johnson Wildflower Center, the National Arboretum in Washington, DC, and the National Wildlife Federation, among many other venues. He is a founding member of Association of Professional Landscape Designers (APLD), a former member of APLD's Environmental Committee, and an Affiliate member of the American Society of Landscape Architects (ASLA).
In 1990, Larry developed New Directions in the American Landscape (NDAL), a conference and workshop series dedicated to advancing the art and science of natural landscape design. Co-sponsors of NDAL programs include the Atlanta Botanic Garden, Brooklyn Botanic Garden, Connecticut College Arboretum, and the Morris Arboretum of the University of Pennsylvania, among others. This influential series has a loyal following in the landscape field and in 2016 received the New England Wildflower Society's first annual Regional Impact Award.
Larry authored Garden Revolution: How Our Landscapes Can Be a Source of Environmental Change with Tom Christopher (Timber Press, 2016). Their book received a 2017 Book Award from the American Horticultural Society.
More Events You'll Enjoy
See description for dates and times

Peruse our offerings for an exciting variety of fun and enriching programs on gardening, culinary arts and more to let your inspiration grow this season.